A couple of weeks ago I was stressing about a box coming back from CGC. On shipment tracking, it was showing "delayed" for days and I was starting to get antsy. There was good reason to be nervous: inside the box was a nice higher-grade copy of Chamber of Chills #19, the famous skeleton through the wine glass cover used on a Misfits album, I think. All ended well, the book came in safe and secure and the submitter was pleased as punch. A few days after he got his book back my submitter was telling me about all the great offers he was getting for the book, I thought WOW, those offers seem high! Apparently not high enough for him as he's opted to keep it for now, "Walt! It's one of the top covers of the Pre-Code Horror (PCH) genre!". But it wasn't always.
I remember 20 years back one of the best PCH books to have was Black Cat Mystery #50, the Irudium Bar cover. There were a few other mainstays but I don't remember Chamber of Chills #19. I did some digging on GPAnalysis to try and grab some quick comparables. I know it's a singular sample and doesn't constitute proof but it is indicative of a few of the other grade comparisons I looked at. Back in 2008 a CGC 8.5 copy of Black Cat Mystery #50 sold for $1,500, in the same year a CGC 8.0 copy of Chamber of Chills #19 sold for $355. This past November a CGC 8.5 copy of Black Cat Mystery sold for $27,600, and in the same month a CGC 8.0 copy of Chamber of Chills #19 sold for $37,200. The Chamber of Chills increased over 100 fold in the past 15 years while the Black Cat did not quite 19 fold.
My presentation of the data above was hurried and not well presented but it's only there to prove a point and a possible opportunity for comic book investing going forward. The Chamber of Chills issue was only recently "discovered": it took a new crop of fans to dust it off from the secondary pile and see it for what it is, a classic. I'm thinking there are so many more books like this out there, the realization that leads to appreciation doesn't have to be on the scale of the example above but I'm sure there are great, overlooked comics still hiding in plain sight. I'm now on a mission to find them and bring them to light. For a project or a mission to sound important, it needs a name or a moniker, perhaps the "proofing project"…?
OK, let's hit that "to eBay auctions" pile and see what we find…
My Splash of the week belongs to Sal Buscema's two-page splash introducing us to the diabolical band of no goods, the Zodiac, from Avengers #72. This art is in that sweet spot of the "the Marvel Way": its the traditional way I like seeing comics drawn.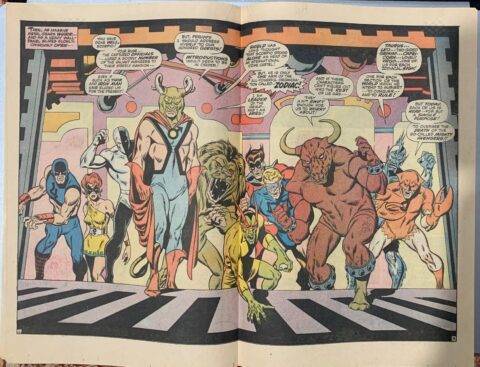 Our ad of the week comes from the second print of New Mutants #87 in early 1990. Here we have a full-page ad for Cons. Cons really proliferated in the late 1980s and started taking on the air of the events held today. The late 80s was around the time I started doing most of the North East US shows on an annual basis: Chicago, Detroit, Philadelphia and sometimes Boston and New York. The amount of great old comics and ridiculously cheap prices available at cons in those days makes me want to cry!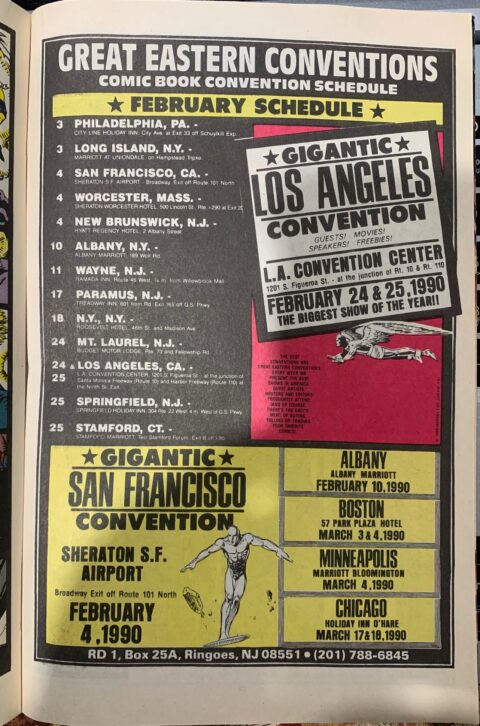 I'm not sure if I'm having deja vu or if I'm showing this cover all over again but I'll make the bold assumption that I would have remembered using this cover before. Talk about a cover that is "of a time", Bill Sienkiewicz's cover to Batman #400 screams 1980s. I've always liked this cover and enjoy those little details engulfing Batman on all sides.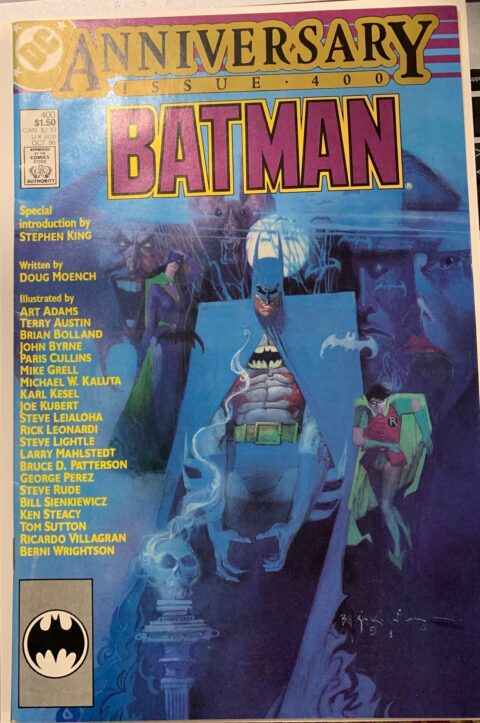 The latest icecollectibles weekly eBay auction just ended and here's a result I'd like to highlight, Action Comics #363 CGC 6.5 sold for $231.50. I was pleasantly surprised with this result; nice clean cover with lots of Bizarros on it! This is one of those books you don't really know about or remember but when it pops up you say – hey, I want that!