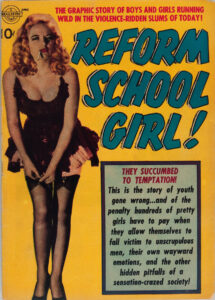 I received this great write-up from CBD commenter Alex Sorensen and I'm glad he is willing to share his work with us. Take it away Alex.
MOST VALUABLE ATOMIC AGE COMICS – NEAR MINT MINUS (1946-1955) (ROUNDED)
There is little available data on the Atomic Age so I thought I would publish this on comic's best web site.
For some time I have been putting together pricing for the most valuable comics based on available sales/grade data from the 1960s to date.
Below are the most valuable comics with current (as of late April – June 1, 2021) values of Atomic Age comics 1946-1955 inclusive for 9.2 near mint minus, sometimes mythological, as many of these comics may not have this grade.
Batman (the comic) made ten appearances, and Detective Comics six and three of the top five; Flash Comics and Phantom Lady each had four appearances in the Top 100. Cap appears four times under different publishers and formats.
I have close to 4,000 comics listed in the Atomic Age and I can safely say that some comics could easily jump into this top list out of nowhere. Comics most likely to enter the top 100 due to recent sales are Famous Funnies 212, Murder Incorporated 3 (1948), War Fury 1, Startling Comics 53, Lovelorn 53, Black Knight (Toby) 1, Chamber of Chills 23 (1954), Batman 69 & 48, Mister Mystery 12, Who Is Next 5 and Black Knight (Atlas) 1.
Why are these issues at the top? One had an important storyline (Superman 76); two were the beginning of genres, in-house or not; three-plus had origin stories; six were first issues; nine were rare issues; fourteen had first appearances and sixty-five had fantastic covers. More than sixty-five actually but I had other reasons take precedence.
Fantastic covers? Matt Baker had ten appearances, Win Mortimer seven, Bernard Bailey – five, Bill Everett four or five (need art confirmation), LB Cole – four, Dick Sprang – four. Frazetta, Infantino, Harry Anderson, Johnny Craig, Lee Elias all had about three. Reform School Girl was the only photo cover. Eleven had unknown artists doing the covers. Re-read the first line above, there is little available data.
Is this perfect? Nope. I am more interested in numbers than trying to figure Atlas, Marvel, Timely, publishing houses, so some publishers may be somewhat wrong. I have also included Canadian Comics, where I can find pricing data, so there will be two Superior published Captain America Comics. The 98th comic is the 192-page giant Captain America, which has only one coverless sale that I could find; one sale is the minimum requirement.
I was tempted to add notations on whether the books are going up or down, or if the book is hot but refrained as I would have to publish monthly to maintain this sort of thing.
This list should be used for entertainment only. Have fun and I welcome your thoughts. Keep it real as I have tried to.
| Year | Month | Publisher | Title | Issue | Rank | 9.2 nm $ |
| --- | --- | --- | --- | --- | --- | --- |
| 1948 | 10 | DC | Detective Comics | 140 | 1 | 122,000 |
| 1948 | 4 | Fox | Phantom Lady | 17 | 2 | 89,000 |
| 1948 | nn | Superior | Manhunt! | 12 | 3 | 74,000 |
| 1951 | 2 | DC | Detective Comics | 168 | 4 | 64,000 |
| 1955 | 11 | DC | Detective Comics | 225 | 5 | 56,000 |
| 1953 | 6 | Stanley Morse (Gilmor) | Weird Mysteries | 5 | 6 | 50,000 |
| 1947 | 8 | DC | Flash Comics | 86 | 7 | 44,000 |
| 1950 | 4.5 | EC | Vault of Horror | 12 | 8 | 42,000 |
| 1952 | 10 | Star | Blue Bolt Weird Tales of Terror | 115 | 9 | 36,000 |
| 1949 | 2 | DC | Flash Comics | 104 | 10 | 36,000 |
| 1948 | 3 | Four Star Comics | Brenda Starr | 14 | 11 | 36,000 |
| 1948 | nn | EC | K.O. Punch | nn | 12 | 34,000 |
| 1946 | 10.5 | DC | Batman | 37 | 13 | 33,000 |
| 1947 | nn | Universal Phoenix | Seven Seas Comics | 4 | 14 | 33,000 |
| 1954 | 4.5 | EC | Crime SuspenStories | 22 | 15 | 32,000 |
| 1947 | 12.5 | DC | Batman | 44 | 16 | 32,000 |
| 1948 | 12.5 | DC | Batman | 50 | 17 | 29,000 |
| 1949 | 3.5 | DC | Superboy | 1 | 18 | 28,000 |
| 1949 | 7 | Timely | Sub-Mariner Comics | 32 | 19 | 27,000 |
| 1949 | 10 | Marvel | Captain America's Weird Tales | 74 | 20 | 27,000 |
| 1948 | 1 | Better (Nedor) | Startling Comics | 49 | 21 | 27,000 |
| 1953 | 9 | Harvey | Little Dot | 1 | 22 | 25,000 |
| 1951 | nn | EC | Tales of Terror Annual | nn (1) | 23 | 24,000 |
| 1948 | 3 | Fox | Blue Beetle | 54 | 24 | 24,000 |
| 1949 | nn | St. John | Giant Comics Edition | 12 | 25 | 24,000 |
| 1947 | 1 | Avon | Eerie Comics | 1 | 26 | 24,000 |
| 1952 | 4 | Marvel | Venus | 19 | 27 | 23,000 |
| 1954 | 7 | Story | Fight Against Crime | 20 | 28 | 23,000 |
| 1955 | 6 | DC | Batman | 92 | 29 | 23,000 |
| 1954 | 5 | Marvel | Strange Tales | 28 | 30 | 22,000 |
| 1949 | 4 | Fox | Phantom Lady | 23 | 31 | 22,000 |
| 1953 | 5 | Aragon | Weird Tales of the Future | 7 | 32 | 22,000 |
| 1946 | 10 | Marvel | Millie the Model | 2 | 33 | 22,000 |
| 1954 | 9 | Eastern | Famous Funnies | 213 | 34 | 21,000 |
| 1951 | nn | Realistic | Reform School Girl! | nn | 35 | 20,000 |
| 1950 | 4 | St. John | Teen-Age Romances | 9 | 36 | 20,000 |
| 1950 | 12.5 | DC | Batman | 62 | 37 | 20,000 |
| 1953 | nn | United Features | Peanuts | 1 | 38 | 20,000 |
| 1949 | 7 | DC | Detective Comics | 149 | 39 | 19,000 |
| 1946 | 2.5 | Maple Leaf | Lucky Comics | V5 9 | 40 | 19,000 |
| 1952 | 10.5 | DC | Batman | 73 | 41 | 19,000 |
| 1954 | 6 | Harvey | Black Cat Mystery Comics | 50 | 42 | 19,000 |
| 1948 | 12 | DC | Detective Comics | 142 | 43 | 18,000 |
| 1948 | 2 | DC | Flash Comics | 92 | 44 | 18,000 |
| 1953 | 9 | Fawcett | Underworld Crime | 7 | 45 | 17,000 |
| 1950 | nn | St. John | Giant Comics Edition | 15 | 46 | 17,000 |
| 1952 | 10.5 | EC | Mad | 1 | 47 | 16,000 |
| 1947 | 6 | All-Negro | All-Negro Comics | 1 | 48 | 16,000 |
| 1954 | 5 | Harvey | Tomb of Terror | 15 | 49 | 16,000 |
| 1952 | 3.5 | United Features | Tip Top Comics | 173 | 50 | 16,000 |
| 1949 | 4.5 | DC | Batman | 52 | 51 | 16,000 |
| 1953 | 4 | Stanley Morse (Gilmor) | Weird Mysteries | 4 | 52 | 16,000 |
| 1951 | 2 | St. John | Teen-Age Romances | 14 | 53 | 16,000 |
| 1948 | 10.5 | DC | Batman | 49 | 54 | 16,000 |
| 1946 | 5 | Aviation | Contact Comics | 12 | 55 | 15,500 |
| 1946 | ? | Green Publishing | Roly-Poly Comic Book | 14 | 56 | 15,500 |
| 1952 | 5.5 | DC | Superman | 76 | 57 | 15,200 |
| 1951 | 8.5 | DC | Batman | 66 | 58 | 15,000 |
| 1955 | 5 | Charlton | Negro Romances | 4 | 59 | 14,900 |
| 1947 | nn | Universal Phoenix | Seven Seas Comics | 6 | 60 | 14,900 |
| 1955 | 3 | DC | Adventure Comics | 210 | 61 | 14,700 |
| 1952 | 9 | SPM | Weird Tales of the Future | 3 | 62 | 14,600 |
| 1946 | 8 | DC | Detective Comics | 114 | 63 | 14,400 |
| 1953 | Spring | Fiction House | Ghost | 6 | 64 | 14,300 |
| 1954 | 3 | Star | Ghostly Weird Stories | 122 | 65 | 14,100 |
| 1953 | 9 | Harvey | Chamber of Chills Magazine | 19 | 66 | 14,000 |
| 1947 | 8 | Fox | Phantom Lady | 13 | 67 | 14,000 |
| 1947 | 2.5 | Four Star Comics | Captain Flight Comics | 11 | 68 | 14,000 |
| 1954 | 3 | Charlton | This Magazine Is Haunted | 16 | 69 | 13,500 |
| 1947 | 3 | Marvel | Captain America Comics | 61 | 70 | 13,400 |
| 1952 | 6 | Atlas | Journey Into Mystery | 1 | 71 | 13,300 |
| 1950 | 2.5 | EC | Crime Patrol | 16 | 72 | 13,200 |
| 1946 | Fall | Marvel | All-Winners Comics | 19 | 73 | 13,200 |
| 1952 | 3.5 | United Features | United Comics | 21 | 74 | 13,000 |
| 1950 | nn | St. John | It Rhymes With Lust | nn | 75 | 13,000 |
| 1950 | 8 | Quality | Spirit | 22 | 76 | 12,700 |
| 1954 | 6 | Atlas | Journey Into Mystery | 16 | 77 | 12,700 |
| 1952 | 8.5 | DC | Phantom Stranger | 1 | 78 | 12,600 |
| 1954 | 6 | Harvey | Witches Tales | 25 | 79 | 12,500 |
| 1953 | 4 | Marvel | Spellbound | 14 | 80 | 12,400 |
| 1949 | 9 | St. John | Casper the Ghost | 1 | 81 | 12,400 |
| 1947 | 5 | Marvel | Marvel Mystery Comics | 82 | 82 | 12,400 |
| 1948 | 6 | Timely | Gay Comics | 32 | 83 | 12,400 |
| 1954 | 5 | Atlas | Mystery Tales | 19 | 84 | 12,300 |
| 1954 | 9 | Stanley Morse (Gilmor) | Weird Mysteries | 12 | 85 | 12,200 |
| 1953 | 7 | Aragon | Weird Tales of the Future | 8 | 86 | 12,200 |
| 1954 | 7 | Trojan | Beware | 10 | 87 | 12,100 |
| 1949 | 12 | Superior | Captain America's Weird Tales | 74 | 88 | 11,900 |
| 1954 | 7 | Charlton | Strange Suspense Stories | 19 | 89 | 11,800 |
| 1952 | nn | Magazine Ent. | Thun'da | 1 (A-1 #47) | 90 | 11,800 |
| 1948 | 2 | Fox | Phantom Lady | 16 | 91 | 11,700 |
| 1946 | 1 | Bell Features | Active Comics | 27 | 92 | 11,700 |
| 1953 | 7 | Atlas | Menace | 5 | 93 | 11,700 |
| 1950 | 6.5 | DC | Batman | 59 | 94 | 11,500 |
| 1947 | nn | Catechetical Guild | Is This Tomorrow (Canadian) | 1 | 95 | 11,500 |
| 1951 | 6 | Marvel | Strange Tales | 1 | 96 | 11,500 |
| 1953 | 3 | Atlas | Journey Into Mystery | 6 | 97 | 11,300 |
| 1949 | nn | Superior | Captain America Comics | nn | 98 | 11,200 |
| 1948 | 11 | DC | Flash Comics | 101 | 99 | 11,000 |
| 1953 | 4 | Youthful | Chilling Tales | 15 | 100 | 11,000 |