It was nice to see the Marvel versus DC debate Chris and I had on our last Comic Culture podcast draw out some extra comments; it's a topic that needs more time, and us speeding through it like we did leave a lot wanting. Chris and I discussed doing a show next week covering all the other publishers and doing a similar comparison by eras for those other important contributors to our hobby. We'll aim for next week for that show.
In that last podcast, I think I mentioned how the old Golden Age Timely's were heavily skewed to covering World War II subject matter, especially on the cover; I mentioned how much rarer it was for DC to feature the war on their covers. Well, I was kind of wrong, at least as far as Batman is concerned. There was a string of seven Batman issues, 12 to 18, five of which had WWII covers, #12, 13, 15, 17 and #18 all featured the war on the cover, the next and last Batman war cover was #30, shown below and going up on next week's eBay auction, its dated August/September 1945 but probably had a street date of July meaning the war in the Pacific had not yet ended.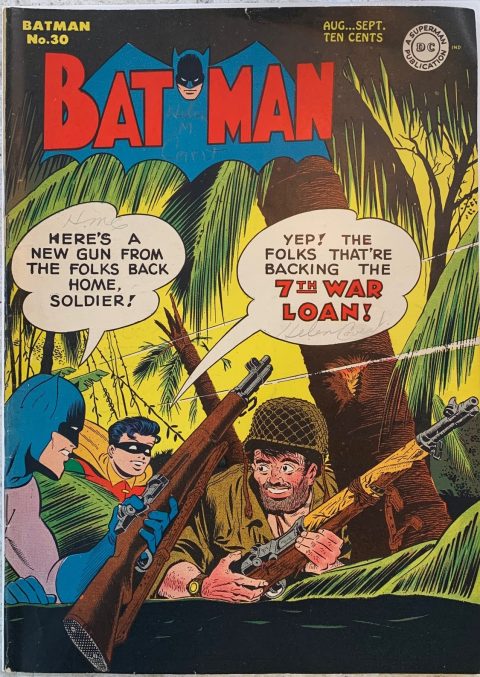 On Saturdays I have this little routine, been doing it for decades when time allows, I go out and grab a black coffee and the local paper. Most of the paper goes right into the recycle bin: the only section I read is the comics. The Hamilton Spectator has a good comics section: my favourite strips (though I do read all the others as well) are Cornered, Sherman's Lagoon, Garfield and Dilbert, I even test my detective chops by trying to solve the Slylock Fox mystery. This may be my favourite half hour of the week. I always marvel at the consistent level of quality and creativity from these cartoonists; it must be a tough gig. I had a bit of a panic this week when I read that Dilbert was being dropped by 77 newspapers due to some content that was contentious to some. I love Dilbert and would hate to see it leave my Saturday morning routine. Thankfully there was a great Dilbert weekend strip in my paper this past Saturday; I breathed a sigh of relief. The thought of how much joy the weekend funnies bring me crept into my mind when I saw this ad at the back of Batman #30 for the daily Batman newspaper strip. Having never read the Batman dailies I do have a question I'm hoping someone can answer, was there a weekly larger "Sunday" page edition that had more panels than the Monday to Friday dailies?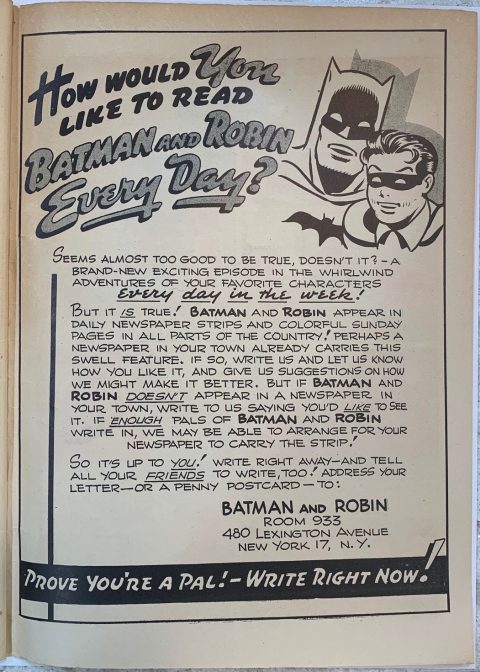 I was writing up a lot of Howard the Duck magazines for next week's auctions and I was getting blown away by some of the Gene Colan artwork. I was trying to pick a page to feature here and for some strange reason, I ended up getting distracted by this great Dave Sim piece that's on the inside front cover to issue #8. Being a fan of the weekend funnies I know how hard it is to draw comedy; I mean writing it is hard and I think drawing it is just as hard. Sim does a great job with this page, I'm still laughing at the Man-Thing gag.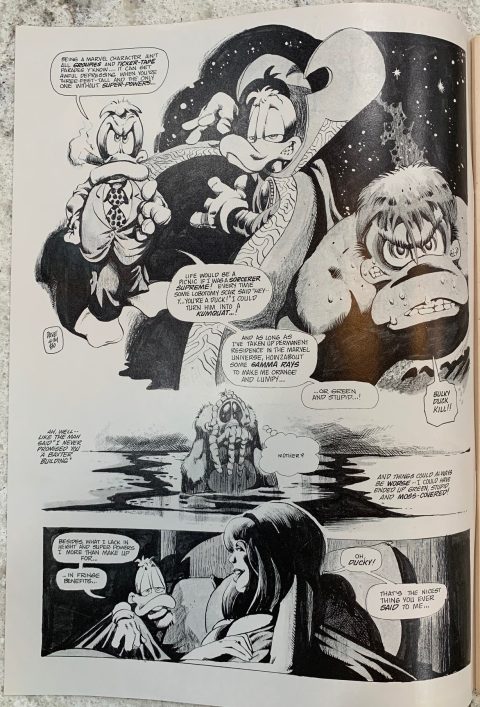 For this week's icecollectibles eBay auction that just ended I thought I'd tie into the top of the post and feature a Timely with a war cover. Though not technically a WWII cover as this is dated Fall 1945 and I'm not sure if the street date was still during the war, our copy of Human Torch #20, raw in all its glory, fetched $1,100 USD in what I thought was a solid performance. Quality raw Golden Age is tough to come by on eBay auctions and I thought the book did admirably, definitely advantage buyer.