It struck me that these little weekly observations I post are like little topics for discussion around the water cooler on a Monday morning; you can add the football and Oscar talk if you'd like.
Next week I'm going to try to add covers into the mix: I'll pick my favourite cover I see in the pile of books heading for the eBay auctions.
We have to talk about this. A tiny little cup out of the "No 1" from a cover of Action Comics #1 sold for $7,101 on auction. That distinctive sky blue behind the black ink is so identifiable I would have guessed Action #1 if someone asked me. First, it was the Action #1 shards, now it's a little clip out of the cover, whats next?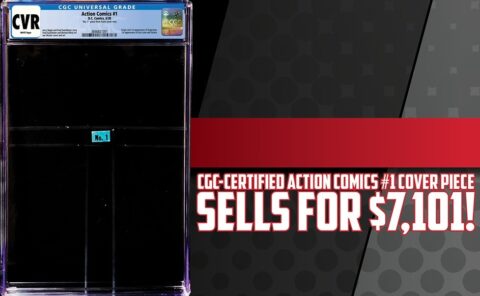 Speaking of Superman, my ad of the week comes from the back cover of Superman #10 from June 1941. Lately, I've been intrigued by the potential value of toys and lord knows what an unopened Krypto Raygun projector pistol would be worth today. There is no way someone would have had the foresight to store their purchases for the future so the only way these survived unopened would be through unsold stock. Maybe there's still a back corner of some old derelict warehouse in Plymouth Michigan that has cases of these!
A quick note: I'm finding the ads to be the most difficult to choose from. I'm awed by so many of them, probably because I never used to pay any attention to them before.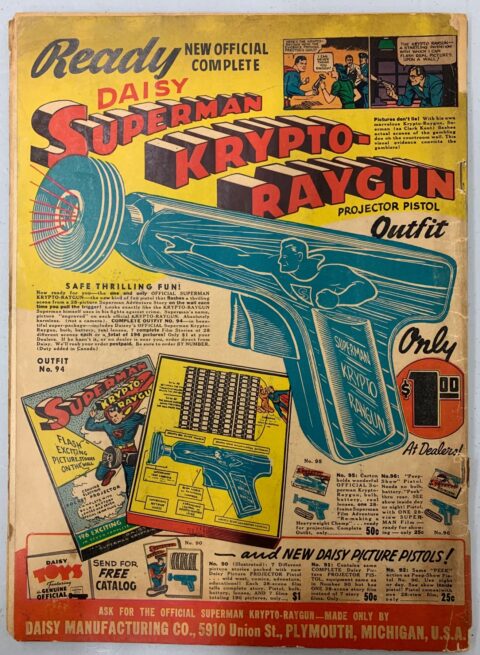 I had a nice visit from my friend John. John's an old-timer who used to run an old vintage video shoppe in the heart of Toronto; he's quite the film buff and also has a love for comics. His favourites were the Brave and the Bold run containing Silent Knight and Viking Prince. John told me a story about how Silent Knight was something thought up at DC around a Christmas theme and thus the play on Silent Night; I've already forgotten the important parts but that sounds like a cool story only true fans would know. I happen to be putting up a little lot of Brave and the Bold in this coming week's eBay auction including a copy of Brave and the Bold #20. John and I marvelled at the elegance of Irv Novick's splash page for the issue and it will serve as the original art piece I'd love to own for this week.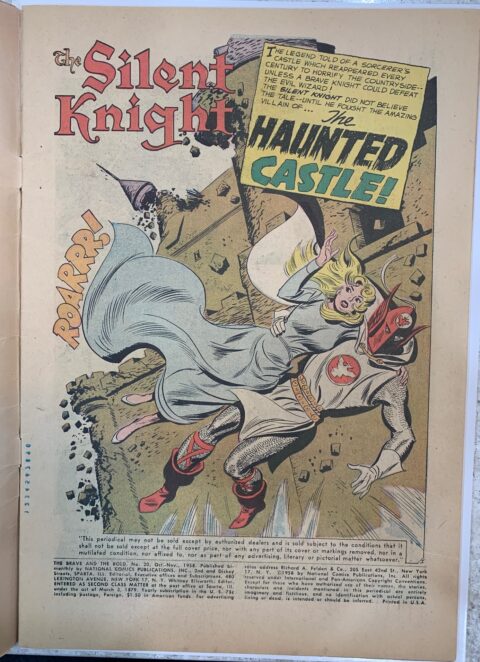 Another old pal, Mike Huddleston, dropped by last week with a coffee and some donuts (he's a good man, that Mike) and he pointed out to me that this great page out of Marvel Superheroes #13 was years ahead of its time. Starhawk didn't officially make it into the rotation until he joined the Guardians of the Galaxy roster during their Marvel Presents run in the mid-1970s. The ad plugs his appearance in Marvel Super-Heroes #14 but he doesn't show up. Better late than never is what I'll say.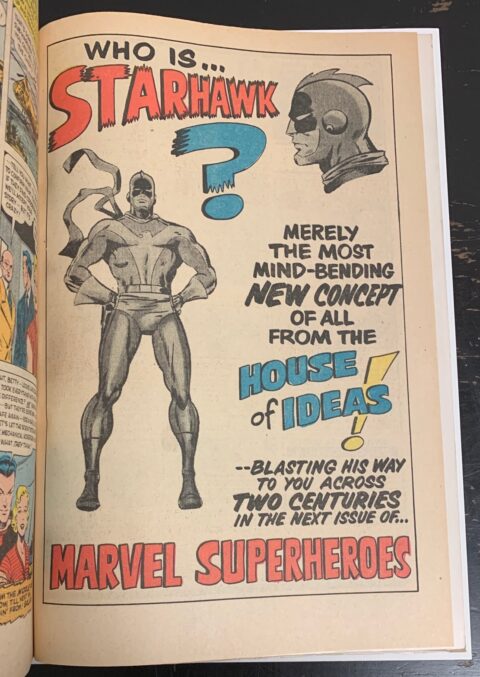 This week's internationalcollectiblesexchange weekly eBay auctions wrapped up last night and they were unstoppable. I particularly liked this nice tight raw copy of Marvel Premiere #28 featuring that great Legion of Monsters cover; it sold for $280 USD.