Fan Expo Toronto 2022 is now in the books: here are my thoughts on the show.
It was so good to see all the familiar faces. My memory of names being what it is made for dozens and dozens of awkward greetings, "Walt, great to see you man!" – "Yes, so nice to see you too guy, it's been a few years". Once we got past that part it was just like old times.
I can't tell you how many times I heard someone on the civvy side of the tables tell Chris Owen – "hey, I recognize that voice". Thanks to all the Comic Culture fans wishing us a quick return to our weekly hijinx. One night we were all going to go back to the hotel room with the recorder and open up a few beers, order some pizza and just hit 'record' just to recap our day; I thought it was a good idea but some very recognizable voice said he forgot the recorder at the show! Chris and I tried to record a show while we were driving back in the van; I'll check the audio quality tomorrow, hopefully, it could be our first show back.
Higher-end CGC books were very slow this weekend: we had lots to choose from and at GPA prices but people were hesitant to make that purchase. We sold a CGC 9.8 Sub-Mariner #6 and a CGC 9.2 Detective #400. There were several other CGC sales but those were in the $125 to $250 range, a CGC 9.8 Marvel Fanfare #1 was one of these.
The stars of the show were the bins: we sold almost 1,000 comics out of the bins all ranging from $10 to $900, I'd say the average sale price was just under $25. These were good numbers being generated out of a small 8′ x 8′ booth. The Amazing Spider-Man title led the way then I'd say the Copper Age era issues of Moon Knight, Captain America, She-Hulk etc did very well. There was a lot of interest in the early 1970s Marvel Horror titles: we sold a lot of Tomb of Dracula, Where Monsters Dwell, Crypt of Terror, Frankenstein, etc. I had low-grade copies of Amazing Spider-Man #5, 13, Incredible Hulk #4, and Fantastic Four #7, 13 all sell for about the GPA for the graded equivalent. Marvels did better than DCs but DCs were still very active, Batman and Detective leading the way.
We didn't have a lot of moderns but I do remember seeing some later Spawns selling.
Comic fans really did like our bins: they were making piles as they checked off their lists, some of those lists were so tattered and old, practically falling apart, they were beautiful.
We made a few buys, a nice little Golden Age lot, a bunch of good in-demand moderns, and we made a CGC trade that saw us get some good books including multiple copies of Spidey #129. Check out the Golden Age lot below. My favourite is that great Schomburg cover for Marvel Mystery Comics #10.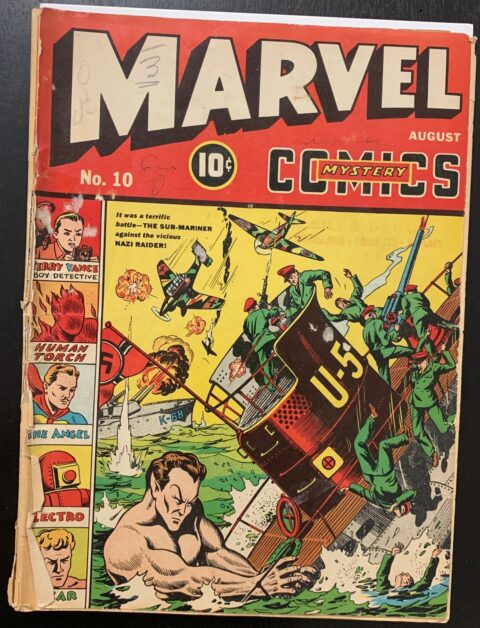 I ended up buying another little Golden Age lot that had some nice books including a Rangers #36; Chris Owen used that oh-so-familiar voice to call first dibs so I said yes, I thought I'd look good and build up a little good will so when I told him on the ride home that his pay for the weekend was all the beer and pizza he consumed he might not get as upset. I did a quick page check just to make sure he wasn't getting defective material and I came across this great Tiger Man splash. I tried to renege on the deal but that familiar voice quickly put me in my place. If this book was CGC'd I would have missed this splash.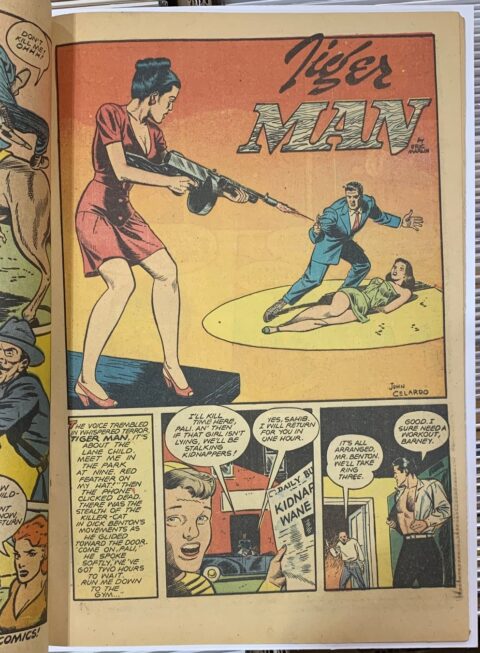 We actually had two 8′ x 8′ booths at the show; we had an endcap so three open sides. What we did is divide the large booth into two corner booths leaving enough space for us to walk between when we needed to. The other side is where we set up our ICE Collectibles booth: we had nothing to sell there, we put out some choice comics, cards, toys and coins to show people the collectibles we deal in. We had flyers to hand out and we did a lot of interacting, explaining how our ICE site and our weekly eBay auction could help them when they needed such a service. I have no idea how that side did. Yes, we engaged with many interested people who had very interesting collections but how many of these people will end up using our service remains to be seen. Here's one teasing showcase just below our sign. A few yummy ones in there.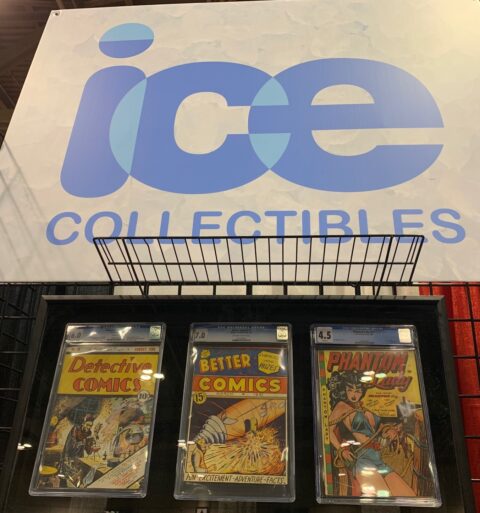 I did rebook for next year: it was a positive experience both socially and for commerce though, as I said above, the jury is still out on our solicitations.
On Sunday night another of our ICE Collectibles eBay auctions ended with some very strong results. We reviewed the number and the raws did very well; I was particularly interested in the Detective Comics #359 graded CGC 8.0. The last sale in June was $3,120 and I was honestly expecting it not to hit $3,000 considering the recent price trends. Our copy sold for $3,338 which I think is a healthy sign.