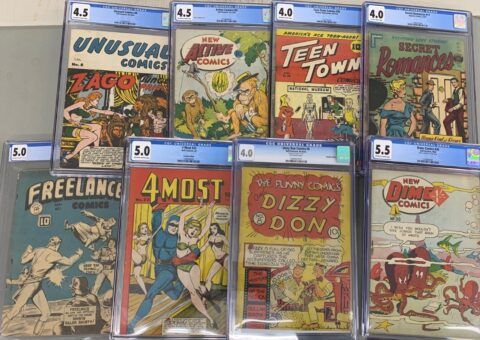 Saw a few Marvel Movie trailers earlier today and here are my quick reviews. Loki – looks good but needs more star power. Falcon and Winter Soldier – looks like its unsure of what it wants to do, I hope the movie is focused. Black Widow – in honor of Norm McDonald's old Showgirls review on SNL, I'm giving this trailer a 10!
Speaking of trailers, I could not get my usual vacation week at Blue Mountain because all the staycationers books last fall. A buddy of mine has a 40 foot trailer in a trailer park near the shores of Lake Ontario so I booked a week! It will be 1st time for me staying in a trailer park and I'm looking forward to it. What does one wear in a trailer park? Do I leave the case of Stella at home and bring up the case of Moosehead? I don't want to get into any fights.
At 9:00 PM EDT this Friday June 18th we'll be posting our Canadiana eBay auction. It won't all be just Canadian Whites, there will be some very cool, very scarce comics published in Canada. Have a look at some new add ons in the attached pic! We're aiming for 100 items plus on the auction but time is running out, we'll get close anyway.
This week's eBay auction at our internationalcollectiblesexchange link produced some really strong results and there were a few books that I thought went for bargains. Case in point this gorgeous CGC 9.8 copy of Batman #345 featuring the 1st appearance of the new Doctor Death and featuring a great skull cover. Final price was $89.88. This book comes from our warehouse collection and when you factor in the shipping, the grading, the storage, the warehouse overhead, the pressing, the eBay fees, the PayPal fees etc you see that $89.88 puts us just a bit in the black. A great snag for the winning bidder, advantage buyer.