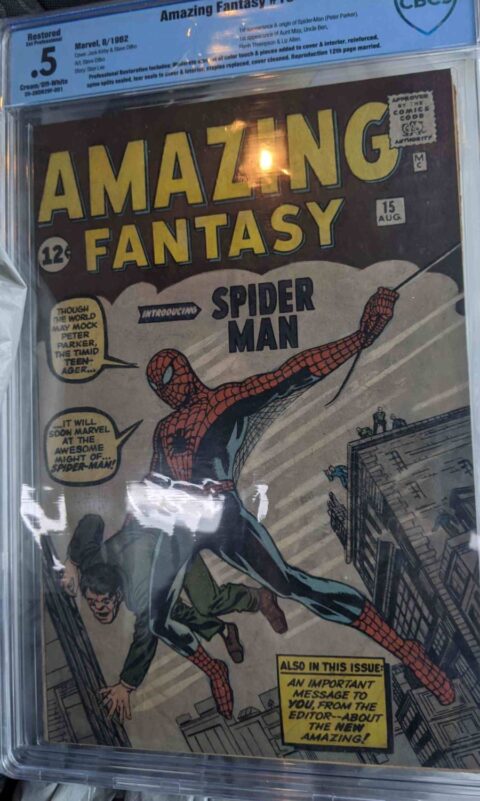 A few weeks ago I had a collector reach out to me looking for some early Amazing Spider-Man comics at CGC 5.0 or better, I found two copies that fit the bill but really did not have much coming through. I remembered that we were about to get some books back from CGC, we sent them down to get graded for a consignor that was going to sell the books through our ICE site, coming back are copies of Amazing Spider-Man #4, 5, 6, 9, 13 and 15. I sent the list to the CGC 5.0 guy and he's waiting to see what the grades are. I asked him if he was building a run and he said no, he already has the run, he's upgrading some low-grade copies.
I've never been an active upgrader but I know a couple of guys that have been upgrading their collection actively for the last 30 years. Upgraders are a certain breed of collectors, they have to be patient, vigilante and opportunistic, I can't imagine it being an easy job being a perpetual upgrader.
The upgraders I know almost all fall into the "upgrading the personal collection" category. High-grade investment copies aren't the main objective, what they want is a strong consistent grade across certain titles and eras. Earlier I mentioned upgraders are opportunistic, they have no problem picking up that 1.0 copy of Fantastic Four #12 or that incomplete copy of Amazing Spider-Man #2 just to fill in the run, from that point on FF #12 and ASM #2 become upgrade candidates. This is where my collecting style always differed, if the bottom grade I'll tolerate is a 4.0, I won't get the 1.5, at least not at market value, I guess if I happened across one super cheap I'd be a fool not to grab it. Maybe that's true for the perpetual upgraders for some of the low grades in their collection.
Thinking it through I'd say these perpetual upgraders got it right grabbing any copy they could along the way. Think of it like buying an old fixer-upper house, in an appreciating house market you'd be much better off selling the old house to help buy the new one, much better off than the person entering into the new house market from say an apartment.
With the way comic prices have appreciated over the past two decades, it has actually favoured the upgraders. Market values for very low-grade copies have been the best performers over this time period, a collector upgrading his Amazing Fantasy #15 from a 0.5 to a 3.0 might actually be saving money doing the upgrade today versus say ten years ago. But again, the main goal for these collectors is not necessarily the financial gain on paper, that's a bonus, the main goal is to get a better copy. And like houses I know there are upgraders who have made three or four jumps up, a .05 to a 3.0 then to a 5.5 etc.
When I started out all the upgraders were obviously collecting raw copies and what's nice about these collectors is that raw upgrades are still very much in play today, obviously, books like Amazing Fantasy #15 will be slabbed but better copies of early Daredevil issues and Justice League of America issues are still being hunted down raw.
Are you an upgrader? Do you have comics in your collection you need to trade in for better copies? How do you do it? Sell your copy and use the money towards the better one? Do you trade it in like a used car and just add some money for the newer model? However you do it you're an important piece of the collecting community.