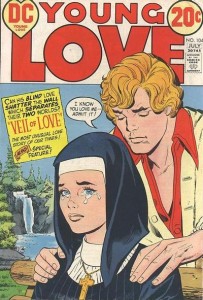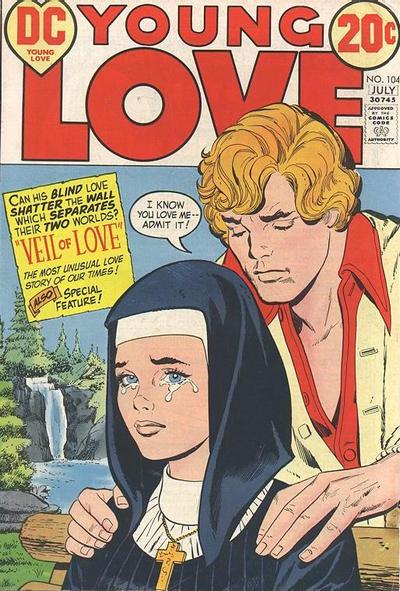 Young Love #104, DC Comics, June/July 1973
Happy Valentine's Day, I hope yours is filled with Young Love!
There are a lot of undervalued comics in the Romance genre but alas I'm faced with the same dilemma as our cover girl Theresa, I can only pick one.
I've chosen Young Love #104 because I absolutely love the cover. This isn't your typical girlfriend stealing boyfriend cover (though those have some great covers too).
Young Love #104's cover tackles a weighty and at a time taboo subject.
Imagine the thoughts going through a young girl's mind as she considers the Sisterhood. This cannot be an easy choice even for those not yet touched by love.
Now imagine a young lady with strong feelings for the guy of her dreams but even stronger feelings for God. Just thinking about it makes me sad.
The Mighty Al Green wrote a great song called Belle, in it he tells a woman "you're what I want but it's him that I need…" Mr. Green wanted both, with her playing second fiddle.
Unlike the Reverend Al our Theresa cannot have both, it's one or the other and she has to choose. Our man Lee is forcing her to choose because he is madly in love with Theresa and why not, she is young, she is beautiful, she saved him from drowning!
I've explained before that comic covers are one of the drivers of demand and thus value. There are a lot of covers like this in comics, ones that stand out from the more mediocre ones around it and yet are not identified by the Guide. In the Guide you'll see this cover innocently grouped in with issue numbers 101 to 106 and 115 to 120. But guess what, if you ever lucked upon a guy with a run of these Young Love issues at a con odds are this one would be missing before any other. That's the way covers like this work, they deliver a powerful visual cue and express a lot of emotions that obviously speak to us.
Sometimes it takes years for covers like this to differentiate themselves in price guides, sometimes they never do.
I'll tell you a little secret, just because buddy plopped them all into his bin all at the same price doesn't mean you have to when the time comes to sell (though I can't see you wanting to sell this comic if you are ever lucky enough to get it). Quietly price the others at whatever your margin is but slap double on this one, it will still probably be the first one to go!
Does Lee get his girl? You'll have to hunt down an issue and find out!
The 43rd edition of the Overstreet Comic Book Price Guide shows $16/$24/$32 as the 8.0/9.0/9.2 price splits.
Strengths that make this comic book a good long-term investment are:
The Romance Genre of this era is getting more and more collectible
Very strong cover
Hands off the Nun pal, hands off the Nun!