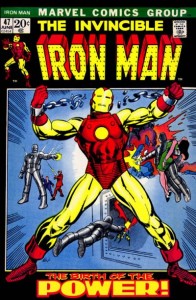 Invincible Iron Man #47, Marvel Comics, June 1972
This week's Undervalued Spotlight comes recommended by Mike Huddleston. Mike's email notes that "…this story features great updated origin re-telling from Roy Thomas and artist Barry Smith. These two were in the middle of their successful Conan run at this time, and give the Iron Man origin a  bang-up treatment. Its the best looking "grey " Iron Man you will ever see." Mike also adds that "…this book serves as my Iron Man #1 for the bronze age and it is great starting point for the book. Not much happens to Iron Man in the 3 years previous, and this book seems to re-launch the character."
I like this pick Mike, its one of those comics that really makes collecting fun!
I've noted many times on this blog that comic collecting is a very visual hobby. Great covers always create demand and when you can combine a great cover with a popular character and a legendary artist and make the issue a special one and have it from a very collectible era, well then we're getting somewhere.
Iron Man #47 features the retelling of the origin of Iron Man. Roy Thomas scripts while legend Barry Windsor Smith pencils the 21 page "Why Must There Be an Iron Man"? The issue finds Tony Stark contemplating the whys while recalling his origin first told in Tales of Suspense #39 back in 1963 (then written by Stan Lee and drawn by Don Heck).
This is a great era for Iron Man collectors; the 2 year period from #43, the 25 cent November 1971 issue featuring the intro of the Guardsman through to #66 featuring the classic Thor/Iron Man battle cover gave collectors at least 6 must haves. The other 4 are our beloved #47, #54 featuring the 1st Moondragon and Iron Man battling Sub-Mariner, #55 featuring the 1st Thanos and #56 the sought after Jim Starlin art issue. These are all great comics and much like Lays Chips, you can't just have one!
Our Spotlight issue has a strong dark border which makes high grade copies tough to find. Even mid grade copies are tough to find, this book is always one of those missing when you are going through a guys Bronze Age Iron Man bins.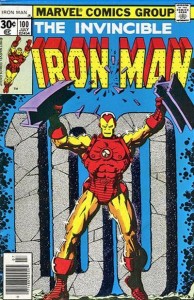 The fan site comicbookresources.com lists Iron Man #47's Gil Kane cover (with inks by Vince Colletta) as the 2nd most iconic cover in the Iron Man run, beating out #1 and coming second only to the Classic Alcoholism issue #128. Check out their post right here (personally I thought Iron Man #66 should have made this list). Note Jim Starlin's obvious homage to #47 in his cover to Iron Man #100.
Iron Man #47 really is the next best thing to a Tales of Suspense #39, it is not a reprint but rather a retelling rendered by great creators. It never hurts that these scenes are the same as the ones interpreted in an updated way in the 1st Iron Man movie.
Iron Man is one of the most upwardly mobile of all the Silver Age Marvel characters and as the value of Tales of Suspense #39 continues to soar the value of Iron Man #47 will surely rise with it.
As of this post there are 68 graded of which a healthy 44 are graded at CGC 9.2 or better.
A nice CGC 9.6 can set you back $223 (that's what 1 sold earlier this month for). I recommend finding a nice tight raw copy, if you dig a bit and haggle a bit  you'll be able to find one at or below price guide prices. For those looking for graded copies I recommend getting a nice tight CGC 9.4 White Pages copy for around the $125 mark. A CGC 9.2 White Pages can be found for about $75 and again if it is well centered I think this is a nice book to have.
The guide is a bit low on this book but I think it will trend upwards as we see demand for this issue continue to stay strong. It is one of the more sought after minor key's in a great title in a standout era.
The 41st edition of the Overstreet Price Guide shows $20/$30/$40 as the splits at the 8.0/9.0/9.2 grades.
Strengths that make this comic book a good long-term investment are:
Origin of Iron Man penciled by Barry Windsor Smith
Classic black cover by Gil Kane
Highly collected title especially the first 66 issues.
Please feel free to submit any comic you feel is undervalued. I'd love to feature it in the Spotlight!