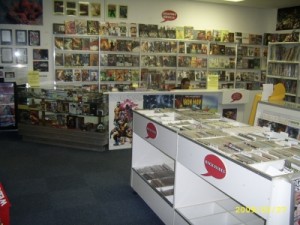 After almost 3 weeks with no access to comics, no sign of comics, no comics nerdery nor banta, no internet and no mobile device – my graphic, fictional requirements were boiling over and my (openly guilty) addiction to sequential art was taking over my soul… or something.   My African adventure finally delivered a massive helping of beautiful (and much needed) pop-culture goodness which, by this point was so very much deserved!  The term "kid in a candy store" may need to be re-written… something like "comic nerd in comic shop after 3 weeks off" paints a fuller picture I think.   Long story short – I round my travels up in Africa with a trip to Cape-Town and (tipped off by a reliable sauce) I head over to Readers Den on Stadium Main Road in Claremont.   I was promised new comics, back issues, graphic novels, manga, action figures, posters, statues, novelties and I was almost foaming at the mouth to get my grubby, English mits on it all.   Readers Den is a specialist 'brick and mortar' store located in Cape-Town, South Africa and as of 2010 it's also a fully functional online store too http://www.readersden.co.za/ – .  The store is owned and managed by two brothers, Nizar and Mahdi Abrahams, whom are both openly addicted to comics – it's bright, clean and offers access to a jolly cluster of sociable nerds… looking for like-minded people to talk to about the new books and products – perfect.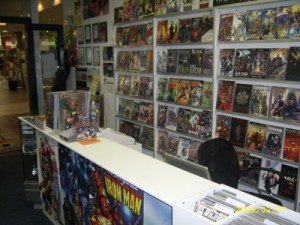 I was very impressed with the store,  though… given my relief to actually find one, it wouldn't have taken much to impress me.  It's obvious that alot of love has gone into the store – and it was nice to see something different to the dingy, dirty 'bunkers' in which, comics seem to be sold in London/New York… bravo chaps.
Just like every big comic store should… Readers Den heavily supports Free Comic Book Day and also regularly visits the San Diego Comic Con: they make every effort to really push the possibilities of owning a store like this one.   In 2006 they exhibited at the very first Cape Town Book Fair, marketing graphic novels to a brand new audience. They now exhibit at the Fair annually to accommodate customers from all over South Africa and the rest of the world – the interest was astonishing and very encouraging.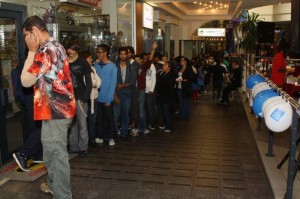 I just wanted to shout about the store and sing their praises a bit. It's a great place for comic lovers in Cape-Town to congregate and capitalize on a quality collection of classy comics.
Coming soon from Across The Pond:- Doctor Who at the movies.