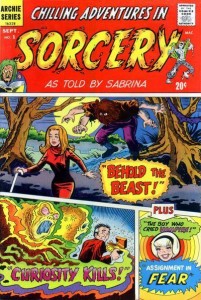 Chilling Adventures in Sorcery (As Told By Sabrina) #1, Archie Publications, September 1972
Here's a great little book that I think has a lot going for it. I found my copy accidentally while looking for some paperwork, I forgot I even owned it! Looking through was a lot of fun!
I've mentioned in a previous Spotlight how the Comics Code relaxed it's restrictions back in 1971 and how that resulted in a deluge of new horror and mystery content from Marvel and DC. Think House of Secrets and House of Mystery switching over to the mystery format, think Batman turning much darker and think of all the new genre creations that came out of Marvel during this period, Morbius, Werewolf by Night, Dracula, Ghost Rider, Son of Satan etc.
Well Archie jumped into this new spooky mix with Chilling Adventures of Sorcery and they used their resident teen aged witch Sabrina to tell the tales.
Archie's horror title switched to the Red Circle imprint at #3 and while Chilling Adventures lasted only 5 issues the series continued on as Red Circle Sorcery up to issue #11 (February 1975). What actually helps this book is that all 11 of these issues are very collectible and command good prices.
This issue boasts four Frank Doyle scripts two of which were drawn by Dan DeCarlo and two by Stan Goldberg. It's actually kind of cool seeing horror stories drawn in the classic Archie style by Archie veterans like DeCarlo and Goldberg.
Sabrina is a character that will be heating up with news of an impending movie perhaps starring the lovely and talented Selena Gomez.
The 41st edition of the Overstreet Price Guide shows $32/$51/$70 as the splits at the 8.0/9.0/9.2 grades.
Strengths that make this comic book a good long-term investment are:
Archie Publishing's foray into the early 1970's newly opened horror/mystery fray
This issue coveted by Sabrina collectors
Harder than you might think to find in higher grades
Sabrina movie will only help books like this
The whole 11 issues of this run are very collectible