If you guessed that this is in fact the longest title of a book I own then you are correct; post title shortened. John Romita's The Amazing Spider-Man: Artist's Edition Limited Remarqued Version is the most limited edition of IDW's already limited Artist's Edition line. For those new to the line here's the official blurb.
AN ARTIST'S EDITION PRESENTS COMPLETE STORIES WITH EACH PAGE SCANNED FROM THE ACTUAL ORIGINAL ART.
While appearing to be in black and white, each page was scanned in color to mimic as closely as possible the experience of viewing the actual original art—for instance, corrections, blue pencils, paste-overs, all the little nuances that make original art unique. Each page is printed the same size as drawn, and the paper selected is as close as possible to the original art board.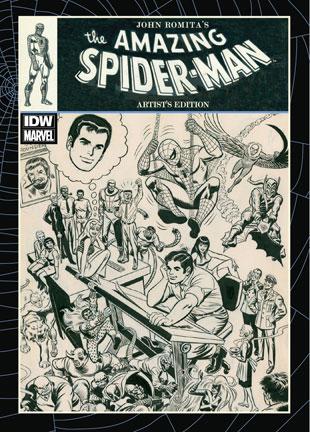 For this edition, IDW has taken John Romita's The Amazing Spider-Man: Artist's Edition, which Anthony Falcone has previously covered for Comic Book Daily, and added a new cover and a new signature page. Oh, and they put the price at $250 versus $100 for the regular edition, both of which are now sold out.
What were you getting for an additional $150? A Stan Lee signature, a John Romita signature, a John Romita head sketch and a numbered edition. Stan Lee charges $50 and up for a signature at a show plus you're getting a Romita sketch, making the additional cost worthwhile. Plus since it's a limited numbered edition the signatures will be accepted as genuine in the future. I'm going to the publisher's well again.
IDW is proud to present a very special limited edition: 250 copies of John Romita's The Amazing Spider-Man Artist's Edition, featuring the signatures of both John Romita and Stan Lee, plus an original hand drawn headshot of Spider-Man (very limited quantities of other Spider-Man related characters are available, inquire for details). Each is individually hand numbered and comes on a beautifully designed, unique plate bound into the book.
I spotted news of this volume online, following a tip-off when I spotted a second ISBN number listed in the regular volume for a "limited edition". It was an exclusive for WonderCon 2012: 250 would be produced and IDW was offering them on their website as well. I ordered one the day it went live and when it arrived I had number 14; not too bad. I briefly thought about getting one of the volumes with a sketch of another character but in the end, Spider-Man is what this book is all about.
All the Artist's Editions are beautifully produced books and have a very high resale value because of the low print runs. That may be coming to an end: IDW said these would never be reprinted but they're doing a second printing of the Wally Wood volume so who knows. No chance of that with the remarqued edition: let's hope we see more of them. Scott Dubier: please do one for Miller and Mazzucchelli.
This is a hard-to-get book: nothing on AbeBooks and eBay listings show an average sale price of $450.