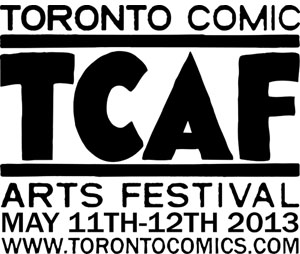 The Toronto Comic Arts Festival has announced their 2013 dates: May 11-12. Free Comic Book Day 2013 is May 4th. Yay! In his announcement post Chris Butcher had this to say.
Saturday May 11th and Sunday May 12th return us to our preferred dates of Mother's Day weekend, a slightly less-crowded time on the burgeoning convention calendar, and also minimize the likelihood of counter-programming some of the other major Toronto festivals and events, including Hot Docs 2013 (April 25-May 5) and Toronto Underground Market.
Wow, the only conflict I could think of the last two years was with Free Comic Book Day; it's been rough trying to decide where to be when you're a fan of mainstream and small press comics. Anyway, now we can enjoy FCBD festivities and the following week enjoy everything TCAF has to offer.