Wonder Comics #1, Fox Features Syndicate (May 1939)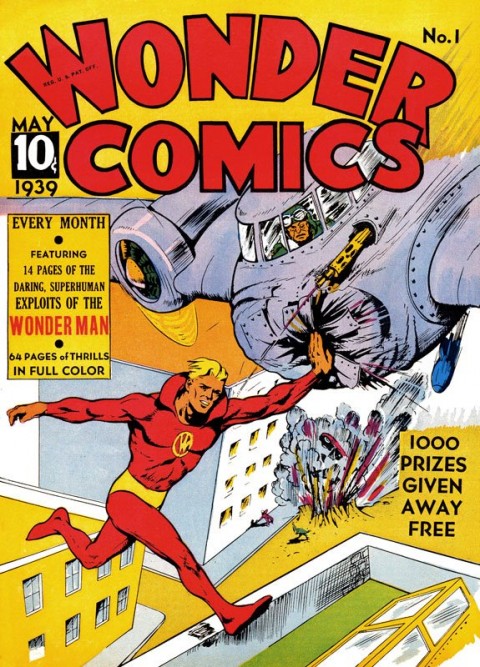 This is such a beast of a Golden Age comic.
I've had Wonder Comics #1 in my scopes for a while but eased up on it after Undervalued Spotlight fan Warren contributed his great Wonderworld Comics #3 argument back in Undervalued Spotlight #86. During that post Warren briefly mentioned Wonder Comics #1 so I thought it prudent to put my pick on the shelf for a while. Well I can't wait any longer; this book is just too strong to ignore.
Wonder Comics #1 is the 1st Fox Features Syndicate comic and it launched one of the greatest publishers of the Golden Age era. Fox Features comics are highly collectible covering as they do the gamut of the Golden Age. Fox Features would eventually publish great characters like, The Blue Beetle, The Green Mask, The Bouncer, Rex Dexter, Dagar – the Desert Hawk, the Flame, Phantom Lady and Rulah.
The publication date for Wonder Comics #1 is May 1939 meaning it came out the same month Detective Comics #27 (1st appearance of Batman)! Interestingly enough Wonder Comics #1 contains a 7 page story called "The Hijacked Pocket Battleship", the story was written, drawn and inked by Batman co-creator Bob Kane!
Most of the giants of comic books contributed to the Fox success story. Jack Kirby who drew and wrote Blue Beetle dailies in 1940, Matt Baker who's good girl art set the standard for others to follow, Will Eisner and Lou Fine who together introduced The Flame in Wonderworld Comics #3, George Tuska who's first comic work was on Fox's Mystery Men #1 and Jack Kamen who's run on Blue Beetle in the late 40s and early 50s was heavily references by the Senate Committee hearing that eventually lead to the Comics Code Authority are just a few of the greats that help highlight just how important a publisher Fox was.
Victor Fox was working for DC Comics in the late 1930s and after seeing the success DC was having with their comic lines, especially the runaway hit Superman in Action Comics, Fox decided to open a comic book publishing business of his own. Not having any artists or writers Fox hired out the Eisner and Iger studios to produce the comics for him. His first request was for a hero similar to Superman.
Eisner came up with Wonder Man whose 1st appearance in Wonder Comics #1 turned out to be his only appearance. Getting wind of what was happening DC immediately launched a law suit. DC successfully sued Fox for illegally copying Superman. This was indeed the 1st copyright infringement in superhero comics and it served notice to all publishers, they'd have to come up with something original if they wanted to play with superheroes! This was a good ruling for creativity in comic books.
Wonder Comics #1 is a scarce book so having one in any kind of shape should be considered a coup. As of this post there are only 7 Universally graded (not restored) by CGC, one is a 9.2, one is a 6.0 and the rest are 3.0 of less. I'd take any of these.
The only recent sale I found was a CGC 2.5 that sold in 2011 for $3,884 or almost double guide. A bargain!
I realize Fox as a publisher is no Marvel or DC but I will argue that Fox is an important publisher and that its 1st comic matters. Marvel's 1st publication included Sub-Mariner and Human Torch so it would not be a fair comparison but if we look at the market value of DC's 1st published book New Fun Comics #1 we see an 8.0 guide value that is 4 ½ times that of Wonder Comics #1. If anything New Comics #1 proves a publishers 1st work matters and strengthens my case for Wonder Comics #1.
The 42nd edition of the Overstreet Comic Book Price Guide shows $12,000/$21,000/$30,000 as the 8.0/9.0/9.2 price splits.
Strengths that make this comic book a good long-term investment are:
There's something about superheroes from the 1930's
Launches the Fox Features Syndicate publishing company
Will Eisner's Wonder Man debut