I was perusing the DC Entertainment Direct Channel retailer newsletter last night when I came across the following.
DC COLLECTIBLES PROVIDES INSTRUCTIONS FOR FIXING THE DARKSEID DELUXE ACTION FIGURE
DC Collectibles reports that the shoulder pads on the DARKSEID DELUXE ACTION FIGURE may disconnect when the figure's arms are moved. A page detailing how to reattach the shoulder pads can be downloaded from Diamond here.
I took the download link off since you need to have a Diamond account to access. Here's what was provided to retailers.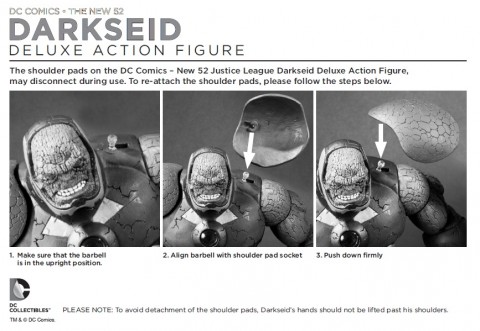 Hmm. I love the bottom note there: "to avoid detachment of the shoulder pads, Darkseid's hands should not be lifted past his shoulders". This just seemed odd, that DC would provide instructions for repair of an action figure. I then went to DC Direct to see what the figure was all about.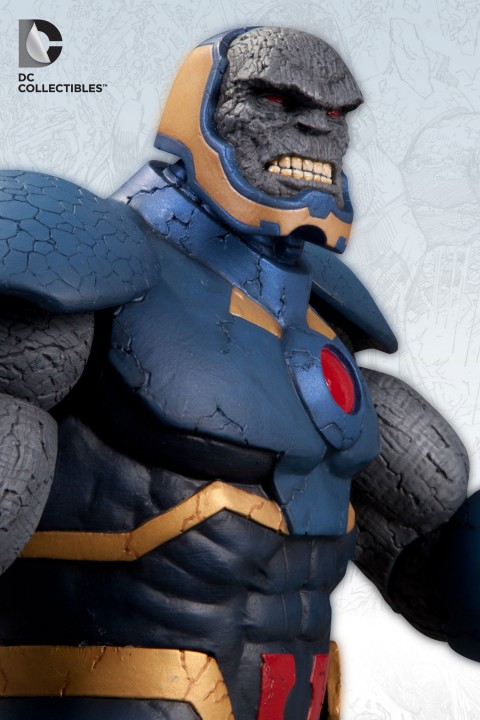 BOOM! Straight from the pages of DC Comics–The New 52 comes a brand new take on one of the Justice League's most powerful villains–Darkseid! This Apokaliptic conqueror will crush all who oppose him–so start building your defenses today!
U.S. Price: $89.95
On Sale Date: November 2012
Yowzers, a $90 action figure! How is that even possible: for that kind of money you should be getting a statue. Odd that DC Direct provided so little detail. Searching around revealed this tidbit, over and over: "standing a whopping 13-inches tall".Basically it's twice the size of the other DC New 52 figures.
Is this where the toy market is heading?