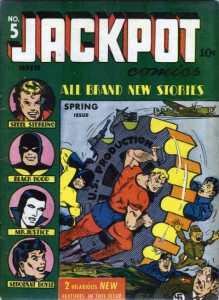 Jackpot Comics #4, MLJ Magazines (Spring 1942)
I'm not sure how I let this one go for so long. Perhaps it's because I've been on a bit of an Archie kid lately? Anyway, this comic book is currently very undervalued.
Archie Andrews is such a great character.  He has stood the test of time, Archie is now into his 8th decade and he continues to be the shining example of a successful American comic that has nothing to do with superheroes.
There's a lot to talk about with this issue so I say we start with the cover. I love this Bob Montana cover, for me it is actually a very accurate depiction of the paradigm of World War II, namely the massive American war production of tanks, planes and guns defeating Hitler, Mussolini and Tojo. On the cover MLJ heroes Steel Sterling, Mr. Justice and Sgt. Boyle are squashing the Axis Powers leaders with the gigantic American gears of war.
One thing I've always loved about Golden Age comics is the bang you get for the buck, well in this case dime. Readers were treated to an 11 page Steel Sterling story in which Steel fights the Nazis, a 12 page Black Hood story which featured the intro and the death of the villain Octavius, a 9 page Mr. Justice story that sees him take on the tribe of Genghis Khan and a 12 page Sgt. Boyle story that has the Sarge taking on the Japanese.
Boy did you get a lot of World War II action and adventure for 10 cents!
Perhaps we could argue that these points would be enough but luckily that's not an issue here because Jackpot #4 gives us more. The front cover alludes to "2 Hilarious NEW Features in this Issue" and inside we get a 6 page Clancy and Looney humor story with a crossover from Steel Sterling and most importantly for this issue we get an 8 page Archie story.
Trip to Bear Mountain, written, drawn and inked by Bob Montana is a very early and very important Archie story. Important because the story is considered the 1st definitive appearance of Mr. Weatherbee and has the 1st, albeit brief, appearance of Reggie Mantle.
Wow, this is a heavy hitter! You get 1st appearances of major Archie characters, you get a great World War II cover with Hitler, Tojo and Mussolini, you get Archie himself in an appearance that predates Archie Comics #1 by months.
Judging by how expensive the early Archie Comics and early Pep Comics issues are this thing should be worth a fortune. Guess again. You'd have to get to Archie Comics #11 before an issue is valued lower than our Spotlight pick in the Overstreet Price Guide, likewise with Pep Comics, only at issue #31 (Archie 1st appeared in Pep Comics #22) do you see the Overstreet valued go below our pick.
So where's the love? It seems to me the price is adversely affected by the fact that it is not in the big Archie or Pep runs. I think much of this value mentality is rooted in an older outdated mode of collecting where the run of a title held more sway. Times have changed; runs are not as religiously collected as they once were. Collectors and investors are more selective in the books that go into their collection. Key issues, issues of interest and historically important issues all trump filling in a run with more and more collectors these days.
Archie Comics #5 or Jackpot Comics #5? The Guide goes with Archie #5, I'm telling you to go with Jackpot Comics #5.
OK so maybe I've convinced you to try and pick up a copy. Well it turns out you're in for a heck of an adventure from this point on. There are only 7 CGC graded copies of this book. To make matters worse there have only been 4 recorder sales in the GPAnalysis site, and 3 of those were over a decade ago! A CGC 6.5 did sell last summer for $3180 (still a bargain I say).
Pep Comics #22 and Archie Comics #1 have moved beyond most people's budgets but here is a book that delivers an early Archie key issue for what seems like peanuts!
The 42nd edition of the Overstreet Comic Book Price Guide shows $1318/$2259/$3200 as the 8.0/9.0/9.2 price splits.
Strengths that make this comic book a good long-term investment are:
1st appearance Mr. Weatherbee
1st brief appearance Reggie
Classic WWII Axis Leaders cover
Just having a copy is defying the odds
Archie appearance predated Archie Comics #1