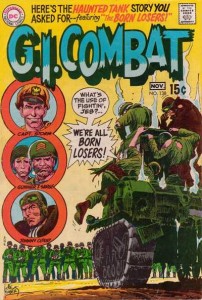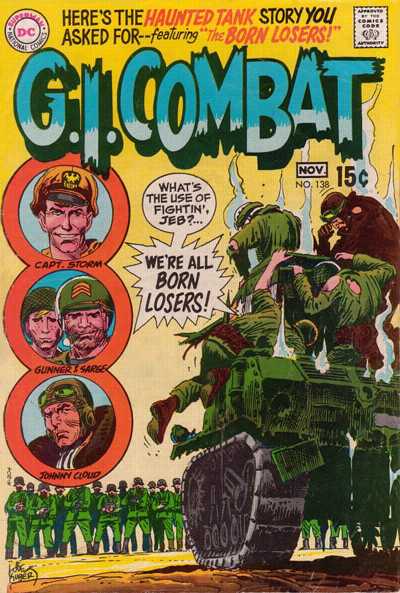 G.I. Combat #138, DC Comics, (November/December 1969)
DC War comics are a very active collecting strain. I've features two DC War comics here on the Undevalued Spotlight. Spotlight #7 featured the 1st Sgt. Rock while Spotlight #2 featured the 1st Mademoiselle Marie. I hope you picked up your copies of these just after my initial posts because they've shot up since.
DC's War comics have actually given us many memorable characters and this is no small feat considering the constraints presented by the material. Fleshing out memorable characters from the millions of soldiers fighting in WWII is not as easy a feat as one might think. Just look at the Charlton and Atlas war titles, DC was way ahead as far as character development and this of course is why the DCs are more sought after.
Four of the more popular characters that emerged out of the DC War titles included Captain John Cloud, a Navajo pilot who first appeared in All American Men of War #82 and stayed until the title was cancelled at issue #117, Captain William Storm who had his own title that lasted 18 issues from 1964 to 1967, and Gunner Mackey and Sarge Clay who shared adventures as Gunner and Sarge for a 50 issues run in Our Fighting Forces.
These four were all headliners in the genre so it was a big deal when they joined forces to form The Losers in G.I. Combat #138. The team was an instant hit and they were soon awarded top billing on Our Fighting Forces starting at issue #123, they remained the title's headliners through to the last issue #181.
The 14 page story titled "The Losers" was a Haunted Tank story written by Robert Kanigher (credited as creator of the team) and pencilled by the great Russ Heath.
The book is not actively traded because so few have been CGC graded. As of this post only 26 have been graded by CGC of which only 10 are graded 9.2 or better. I saw 1 CGC graded 9.2 go for $222 in the summer of 2012 while a CGC 9.0 copy fetched only $114 in the spring of 2012.
These prices are too low; this is a great book with great characters that formed a great team. Both these pickups were bargains.
Much in the way the Howling Commandos made a cameo in the Captain America movie I would expect the Losers to appear in any planned Sgt. Rock movie. Now that would be a great movie and an even better cameo by the Losers!
The 42nd edition of the Overstreet Comic Book Price Guide shows $84/$175/$265 as the 8.0/9.0/9.2 price splits.
Strengths that make this comic book a good long-term investment are:
Key DC War book

1st appearance The Losers

The Losers are made up of already popular DC War characters

Too cheap in the guide for a key 1960s DC comic