Star Spangled War Stories #84, DC Comics, Aug. 1959, 1st Appearance Mme. Marie.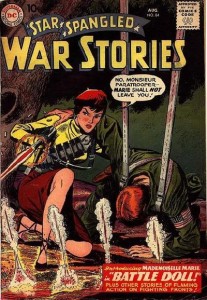 Mademoiselle Marie was a French farm girl who joined the resistance to fight the Nazis during WW2, often alongside Sgt. Rock. Her father died in her arms on their first mission and left her in command of the local resistance movement. This comic is very elusive and sells to DC War fans, good girl art fans and key issue fans alike. 
The 2009 Overstreet price guide value for this comic is $126/$233/$340 in the 8.0/9.0/9.2 grades.
The last noted sale on the GP Analysis site was back in December 2007 when a CGC graded 6.5 sold for $477.00. It's important to note that a 6.5 grade in the price guide is worth approx. $70.00.
 Interestingly enough there are only 2 copies graded higher than a 6.5 with the best graded copy getting a 7.5 grade. Only 4 copies exist above the 6.0 CGC grade.
 Strengths that make this comic a good long term investment are;
 -True scarcity in higher grades
 -Strong established collector segment exists for DC War comics from this era
 -Added demand comes from the very strong good girl art collecting segment
 -This comic is a first appearance and thus a key issue
 -Relative shortness of run (covers and stories for issues #84 – #89 with story only in issue #91) makes it very collectible (and seem attainable)  
Walter Durajlija is an Overstreet Advisor and Shuster Award winner. He owns Big B Comics in Hamilton, Ontario.