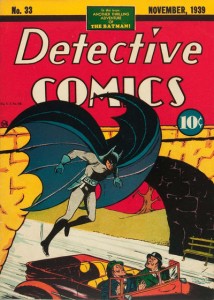 Detective Comics #33, DC Comics (November 1939)
Batman is one of the most important superheroes of all time, top three on everybody's list and #1 on a majority of peoples list.
Next to 1st appearances Origin issues are the most important issues for any superhero so it goes without saying that the Batman's Origin issue should be one of the most important comic books ever published.
I was scanning over the early Batman Detective's the other day and noted some peculiar trends. It seems of all the early Batman Detectives namely #28 to #35 the origin issue #33 is the one putting in the poorest performance in the market place.
WTF, I mean even the non Batman cover issues #30, 32 and 34 are performing at a range of 170% to 190% of Overstreet price Guide and this is a relatively accurate assessment based on 12 sales over the last 14 months.
I don't even want to talk about issues #29, 31 and 35, these issues are selling in the 250% to 350% above guide range.
The 4 sales I found for Detective Comics #33 over the last 13 months averaged 155% above guide.
It's not like Detective Comics #33 is priced so high in the guide as to merit the resistance, it compares in price to #29 and #31 yet it realizes nowhere near the prices. The Overstreet 6.0 grade prices for #29, 31 and 33 are $18,000, $21,000 and $18,800 respectively. All are scarce but do come up for sale a few times a year. On the CGC census I found 26 graded #29s. 34 graded #31s and 36 graded #33s.
Recently a CGC 7.0 copy of Detective #33 sold for $42,174. In the same time period a CGC 7.0 #29 sold for $83,650, a CGC 4.0 #31 sold for $31,111 and a CGC 6.5 #35 sold for a crazy $49,294.
Give me the Batman's Origin over Batman's 1st Batplane.
Origin or Hypo Needle cover? I'd go Origin every time.
Detective Comics #33 also marks the beginning of the 12 page Batman story, increasing from the previous 10 pages, that's 20% more Batman! It's a powerhouse of a book but for some reason its not being shown the love.
Again, Detective Comics #33 is an extremely important comic book, one of the most important if you ask me. I will spare everyone the detailed history lesson as that is easy enough to look up. What I will say is that this is a good time to snag this book while the others around it are hogging the spotlight. Forget about that #35, go after #33!
The 42nd edition of the Overstreet Comic Book Price Guide shows $6,267/$18,800/$47,000/$$81,000/$115,000 as the 2.0/6.0/8.0/9.0/9.2 price splits.
Strengths that make this comic book a good long-term investment are:
Origin The Batman!
A 1930's Batman issue – these are what dreams are made of
One of the most important comic books ever
Underperforming as of this post – this is the sound of opportunity knocking