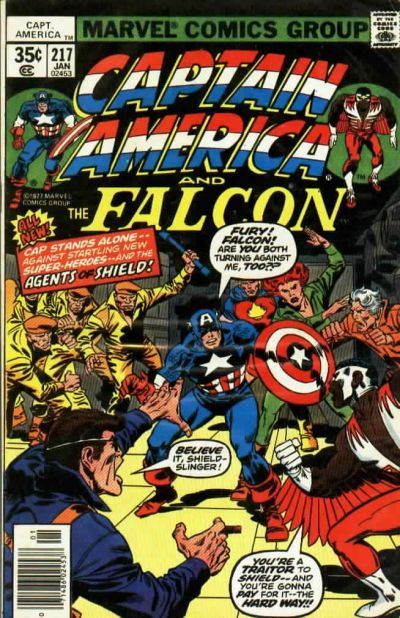 Captain America #217, Marvel Comics (January 1978)
The comic collecting community is currently enjoying a bit of a gold rush. Forget reacting to movie news, enough people are actually panning for any and all 1st appearances in hopes of actually having said book, in multiples, when the movie news hits. There are so many of us prospecting now that prices are starting to be affected.
And why not? All one has to do is imagine the payday that sitting on a half dozen Avengers #55s or Hulk #271s or Daredevil #111s would bring.
We've always been 1st appearance happy but I can't remember it ever being this crazy.
So I was pricing up a run of Captain America's the other day, it really is a tough slog through the Cap run above issue #117. Sure there are some nice tidbits but most are old school standbys like the Nomad issues and the X-Men cross-overs of #172-175 (remember the X-Men title was in reprints at the time so these stories were fresh).  It wasn't until I got into the early #200s that I came across a great little overlooked gem of a book.
Captain America #217! Son, I believe you have potential!
What makes this comic a potential winner for me is that it features the 1st appearance of the Wendell Vaughn Marvel Man. The same Marvel Man who soon after turns into Quasar. He appears 1st as Quasar in the Incredible Hulk #234 (April 1979). I'd be picking up a bunch of these Hulks too!
Cosmic Marvel is all the rage and I think the Quasar character has the potential to play a big role in the Cosmic Marvel Universe. Captain America #217 issues are cheap as dirt right now as are the Hulk #234s. Load up!
In 1989 Quasar got his own title and it actually lasted 60 issues. The most memorable issues for me were #'s 33-36, these were the Operation Galactic Storm tie-ins and these are still very collectible. Operation Galactic Storm was an epic 19 part cross-over event (20 parts if you count the Quasar #35 Aftermath issue). This is one tough cross-over event to collect. Maximum Carnage's 14 parts are a walk in the park compared to Galactic Storm; ever try hunting down a Quasar #33, Avengers West Coast #81 or a Wonder Man #8? Not easy my friend. I digress.
John Buscema does stellar cover and interior artwork in this issue. Roy Tomas and Don Glut get writing credits and boy did they write. I mean compared to today's comics this issue reads like a novel. There's lots to digest and it's a fun story too!
In this issue Marvel Man is introduced as part of a new superhero team put together by Nick Fury. Fury's new team is to engage against a sinister group called the Organization (2 of the 4 members of this group turn out to be Organization agents). Other members of this foursome include the ever so voluptuous Vamp, the ever tame Texas Twister and the ever so ever lame Blue Streak.
Cap turns Nick Fury down when asked to lead this new team. Cap does recommend that Falcon be the leader though, telling everyone he needed some time to work alone. The Falcon accepts. This turns out to be the beginning of the end because with the wrap up of this story in issue #218 the Falcon no longer plays a role in the Cap title. Yes his billing lasts until issue #222 but Falcon really signs off at issue #218 thus marking the end of a glorious almost decade long run.
There is no graded market activity to speak of with this book. A CGC 9.4 sold for $20 back in 2010. The only recent sale was a CGC 9.8 that fetched $149 back in March, could things already be heating up for this book?
The 43rd edition of the Overstreet Comic Book Price Guide shows $4/$5/$7 as the 8.0/9.0/9.2 price splits.
Strengths that make this comic book a good long-term investment are:
1st appearance of Marvel Man who becomes Quasar
Dirt cheap in guide and on the markets