Fantastic Four #25, April 1964, Marvel Comics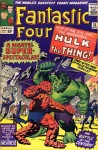 This issue brings a ton of stuff to the table. It features a now classic battle cover pitting the Hulk against the Thing. Though Hulk first appeared on the cover of Fantastic Four #12 (which is worth over 5 times as much as #25 in the guide) that issue did not have a battle cover nor did it contain a battle within the book. Captain America makes his 2nd Silver Age appearance in this issue (it's also the 3rd Avengers crossover). This issue should start pulling away from issue #26 (2nd part of the story) and though it will never catch Fantastic Four #12 it should at least approach half the value. To top it all off, the Stan Lee/Jack Kirby story telling magic was hitting full stride by this issue and it's actually very entertaining.
The CGC Universal grade census shows 16 @ 9.2, 3 @ 9.4, 2 @ 9.6 and 1 @9.8.
The Overstreet Price Guide shows a $459/$880/$1300 split at the 8.0/9.0/9.2 grades.
Strengths that make this comic book a good long term investment are:
– 1st actual battle between Hulk and Thing
– Great Battle cover
– 2nd Silver Age appearance of Captain America
– 3rd Avengers crossover and 1st with Cap in Avengers
– Embedded in one of the Silver Age's most important titles
– All the heroes represented are here to stay
Walter Durajlija is an Overstreet Advisor and Shuster Award winner. He owns Big B Comics in Hamilton, Ontario, Canada