Triumph Adventure Comics #1, Hillsborough Studios, August 1941
I've had my sights on this Spotlight for a long time and with all the excitement being generated by some great news about the principal character there could be no better time to feature this book.
Better yet Rachel Richey, who posts the popular blog Comic Syrup and is through and through a true champion of Canadian comic books has passionately added her argument for this book.
Rachel argues that Triumph Comics #1 is beyond important, it is a must have. Triumph Comics #1, a Canadian White, features the 1st appearance of Nelvana of the Northern Lights.
Triumph Comics #1 may be the hardest comic to find of all the comics ever posted on the Undervalued Spotlight but people take heart. You will be able to read these stories because Rachel and her friend Hope Nicholson have retained the rights to reprint all the Nelvana stories of the 1940s. They are currently running a Kickstarter Campaign to raise funds for the project. Look for their gorgeous volume to hit the stands in April 2014.
Comicbookdaily's Adrew Ardizzi covered this campaign nicely in his most recent post.
If you are ever lucky enough and get an opportunity to buy one of these comics by all means do so. This is a book that already has pent up demand. I've unsuccessfully been looking for one for the last two years – and I know how to hunt down books!! I can't even begin to imagine the demand once Rachel's project successfully raises awareness.  
Enough of the set up!
Rachel Richey, the floor is yours…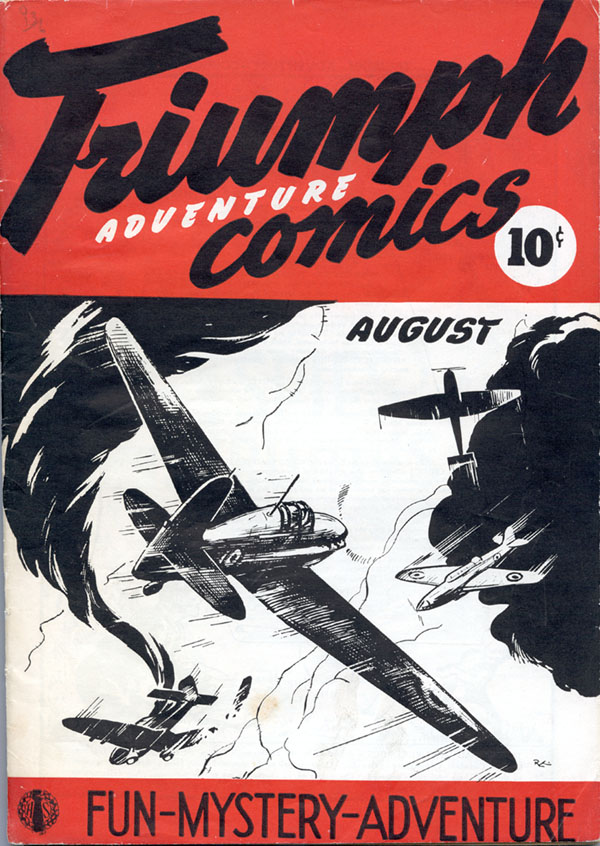 I first learned about Nelvana of the Northern Lights about three years ago when I began an internship at Library and Archives Canada. Up until that time my experience with Canadian comics was limited. The John Bell Collection opened up a new world for me, and introduced me to the hundreds of Canadian Golden Age comics that have been neglected for so many years. This includes Nelvana.
Nelvana of the Northern Lights is an important comic character for several reasons. The first and foremost is how anchored she is in what we consider Canadian heritage. She is linked to the Group of Seven's Franz Johnston, she is partially Inuit and she is proudly northern. She fought the Axis in her comics, and one of her comrades is an RCMP officer, Corporal Keene. All are very recognizably Canadian without being over the top. 
Beyond that, she is one of the first super heroines featured in her own full comic series, before even Wonder Woman who is incomparably more famous. Created by professional illustrator Adrian Dingle, Nelvana was one of the only comics during this period to have a consistent creative on her book. Also, at 31 issues, her comic book life began and ended the Canadian Golden Age of comics. 
Our project is an amazing opportunity to discover even deeper roots to comics produced during this time; an opportunity that hasn't been an option since the comics were originally introduced in the 40s. Our campaign also allows an opportunity to see some of the best Canadian comic book talent of this generation re-imagine this magnificent figure (prints are one of the funding perks). The first time these comics are collected, all 31 issues and the special, will breath new life into a character not read for over 70 years, and Hope and I so thrilled to be able to bring her to  the public's attention.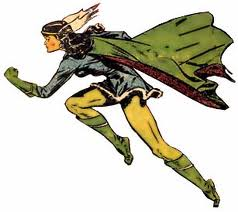 Thanks Rachel for this post and thanks for helping get Nelvana comics into the hands of eager readers.
There is no Overstreet value for Triumph Adventure #1 as the  Whites are not a part of the guide – yet. We're working on fixing that – stay tuned. What would a CGC 9.2 get? Whatever the owner wanted would be my guess. I'd bet a more plausible CGC 5.0 would fetch a few thousand!
Strengths that make this book a good long term investment;
1st appearance of Nelvana of the Northern Lights

Created by Adrian Dingle arguably the most talented of all the "Whites" artists

Makes books like Action Comics #1 seem like X-Force #2 when it comes to supply

Nelvana predates Wonder Woman!