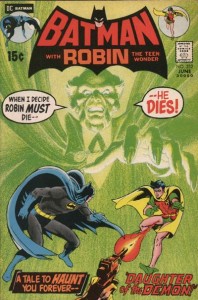 Batman #232, DC Comics, June 1971
One could write  thesis  after thesis on Batman villains. They've been coming at us for almost 75 years now with no signs letting up.
The 1940's gave us most of the Batman villains we know and love, Joker and Catwoman in 1940, Penguin in 1941, Two Face in 1942 and the Riddler in 1948. A few more modern foes have stuck and now count themselves among Batman's most popular namely Bane in 1993 and Hush in 2003.
It's funny but in that 45 year gap between the Riddler and Bane I can think of only 2 new villains that should be counted among Batman's greatest, Poison Ivy from 1966 and our featured villain this week Ra's Al Ghul in 1971.
As a matter of fact all these villains mentioned above made Batman's Top Ten Villains list as recently compiled by Newsarama. I'd also like to point out that Ra's Al Ghul finished at #2; I'm not even going to insult you by mentioning who came in at #1. Ra's Al Ghul also came in at #7 in IGN's list of the top 100 villains in comics.
So Batman #232 is this week's Undervalued Spotlight pick then! Our pick features the 1st appearance of said Ra's Al Ghul.
This is a wonderful Neal Adams cover isn't it? I much prefer it over Adams' Two Face cover on Batman #234 and its better that Adams' Detective Comics #411 cover.
Batman #232 is very much tied to Detective Comics #411. Detective #411 of course features the 1st appearance of Talia, Ra's Al Ghul's daughter. Not many people are aware but Detective #411 predates Batman #232 by 1 month (May 1971), in fact Ra's Al Ghul is mentioned in name in the issue. This all of course explains Batman #232's story title "Daughter of the Demon", a 22 page follow up written by Denny O'Neil and drawn by Neal Adams.
Guano! I fear this post may be a month or two too late as Batman #232 has already started to heat up on the markets. Blame some of the spike in interest on Detective #411's meteoric rise in value. Talia, mother of Robin – Damian Wayne is of course a prominent character and I agree with the increases Detective #411 is experiencing but for sheer Bat importance I have to throw in with her dad.
Joker fans please note that this is not a challenge to the Joker's standing but Ra's Al Ghul is perhaps Batman's most complete villain, most of the others have long histories of running amok in Gotham while our boy Ra's has ambitions that are much larger in scope and threaten humanity itself. Thanks to the Lazarus Pits that rejuvenate him Ra's has been able to live for centuries and over this time he has amassed a wealth of knowledge, cunning and fighting skills, he is very much the match for Batman!
Just think of the epic Batman story arcs that center on Ra's Al Ghul, Contagion, Legacy, Tower of Babel, Death of the Maidens and the epic and stellar Son of the Demon just to name a few.
The thing is I don't think Ra's Al Ghul has peaked! I think there is much more left in him and while Batman fans and critics pick him as second to Joker he is perhaps not as well known to casual fans as say the Penguin is. Ra's Al Ghul is such a complete character though and his history is so rich with Batman that I can only see bigger and better things for this character. Ra's Al Ghul must move from a critic's choice to a casual fan's choice. This is a move I'm confident this character can make.
Batman #232 prices have been relatively stable over the past few years, there was a recent crazy sale of $910 for a CGC 9.2 but before that you could pick one up for less than $600, and a CGC 9.4 could be snatched for less than $700. I really like the 9.4 grade on this book; it doesn't come with the crazy 9.6 price tag but delivers high quality and relative scarcity. As of this posting there are 812 slabbed copies of Batman #232 and a CGC 9.4 keeps you in the top 200 copies. Considering the strong growth in demand this book should experience in the next few years that's scarce enough for our needs.
Go ahead and grab a copy of Detective Comics #411 as the two books are tied together. Just be careful because only 97 Detective 411's have been graded as of this post and their values are close to Batman #232 values. The supply of graded 411's should increase dramatically over the next couple of years and a sudden tripling or quadrupling in supply can often hurt market value.
Batman is perhaps the greatest comic superhero of them all and since most of us can't afford the first appearance of his primary villain Joker I'll encourage you to pick up a copy of the first appearance his second greatest villain Ra's Al Ghul.
The 43rd edition of the Overstreet Comic Book Price Guide shows $124/$275/$425 as the 8.0/9.0/9.2 price splits.
Strengths that make this comic book a good long-term investment are:
1st appearance of Ra's Al Ghul
Arguably Batman's second best villain
Bronze Age classic by O'Neil and Adams