Batman #25, DC Comics, (10-11/44)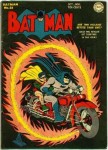 Sometimes the obvious isn't always so obvious. The superhero as we know him dates back to June 1938 and Superman's first appearance. Over 2 years later in the winter of 1940 All Star Comics #3 successfully teamed up some of the, what was by then, scores of DC superheroes into a team. It would take another 4 years for someone to come up with the idea of teaming up two (or more) major villains and setting them against a hero.
Hundreds of neat little ideas like this teaming up of super villains have happened over the history of comic books. Hindsight decides which of these ideas were great and which were not. Super Villain team ups were a great idea. That's right, the Legion of Doom, the Secret Society of Super Villains and all the other great villain teams of the DC Universe's past owe much to the success of the Joker's and the Penguin's shenanigans in Batman #25.
The CGC Census shows only 1 copy graded 9.4 and 2 graded 9.0 so high grade copies are a truly scarce commodity.
The Overstreet Price Guide shows a $1531/$2591/$3650 split at the 8.0/9.0/9.2 grades.
Strengths that make this comic book a good long term investment are:
– The first team up of two major villains is a major event in the history of the DCU and thus comic books in general
– This also happens to be the only team up between the Joker and the Penguin
– Only 3 CGC graded to date higher than 9.0.
– Embedded in Batman, one of the most collected titles in comics
Walter Durajlija is an Overstreet Advisor and Shuster Award winner. He owns Big B Comics in Hamilton, Ontario, Canada