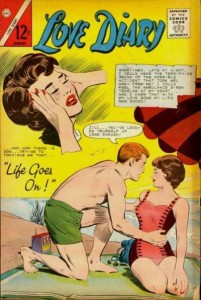 Love Diary #36, Charlton Comics, January 1965
This is a bit of a coup for the Undervalued Spotlight. I believe I've found a yet undiscovered prototype. I'm not sure you could even call it a prototype, to me it looks more like a rip off and the perpetrators are no other than Stan Lee and Jack Kirby.
Surfing culture was all the rage in the mid 1960s; Pontiac Woodies were the vehicle of choice and the Beach Boys were getting woodies singing about California Girls. Surfing was everywhere in pop culture; Beach Blanket Bingo was everyone's favorite movie, the surf was most definitely up.
Comics, always on the leading edge of popular culture, were working in the beach and surfing into their storylines. Charlton Comics was ahead of the pack with titles like Summer Love, Love Diary, Romantic Secrets and Teen Age Love all featuring Surfing covers.
I was leafing through some old Charltons last week when I happened upon an obscure little 7 page story draw by Charlton great Dick Giordano. No credit is given for scripts but my suspicions are that it was Joe Gill. This was around the time Joe Gill was writing more and more space based material for Strange Suspense Stories and just before Captain Atom came back to the title.
The 7 page story  titled "The Strange Surfer" is the last story in Love Diary #36 and for the reasons mentioned above I'm certain Joe Gill Wrote it.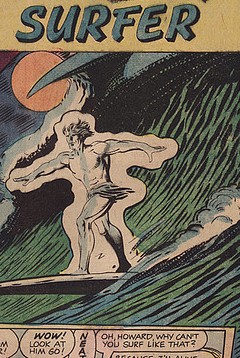 The story tells of a mysterious surfer who effortlessly rides the waves, people watching swear he isn't even toughing the water. Young Sally falls for this mysterious surfer but is rejected by him. He secretly tells her "I'm not of this world" and later "can't you see my skin is not like yours, mine is silver!" Love is blind they say and Sally argues that none of that mattered. She loved him and she hoped that would be enough for him.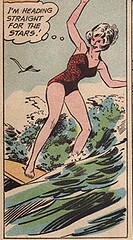 Gill disguised the story as a Civil Rights statement, it doesn't matter where you come from or what color your skin is as long as you love each other.
Anyway this 'Silver Surfer" story was a great little story and one I'll bet Stan Lee read.
I dug into this a bit and found out that Joe Gill and Stan Lee knew each other. Joe was 3 years older that Stan but they had met in New York City in 1941 just before America entered the war. They compared notes and ran ideas by each other all the time. This relationship continued throughout their careers.
Oddly enough about a year later (March 1966) Stan Lee published Fantastic Four #48 introducing the Silver Surfer. Sure Stan's is more polished but it was Joe Gill that came up with the concept and the Silver Surfer, that space faring silver guy on a surf board 1st appeared in Charlton Comics, in Love Diary #36 to be precise.
Start digging gang.
The 43rd edition of the Overstreet Comic Book Price Guide shows $15/$22/$28 as the 8.0/9.0/9.2 price split.
Strengths that make this comic book a good long-term investment are:
1st a silver surfer
As yet undiscovered prototype
Way too cheap considering