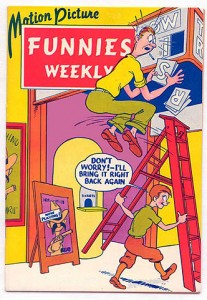 Motion Picture Funnies Weekly #1, First Funnies Inc., April 1939
Please don't yell. I've been called out in the past for picking books that are impossible to find and I've been real good about it for such a long time now but I've come to a breaking point, I simply can't continue my Spotlights without addressing this comic.
Motion Picture Funnies Weekly #1 is different from most Golden Age keys, it almost defies description, it pushes past legend and enters into myth.
A promotional comic planned to be given away at movie theatres in 1939; it ran into a snag when the theatre company it was pitched to didn't like the idea.
In 1974 when 8 copies of the then forgotten comic were found comic history, namely Marvel Comics #1 history, had to be rewritten. A 9th copy, the now famous "Pay Copy" surfaced later and as of this post these are the only 9 copies known to exist.
Of these 9 books 7 are CGC graded, 3 of these are restored. The "Pay Copy" graded a CGC 9.0 is also the highest graded. In October 2005 the "Pay Copy" sold for a measly $43, 125. It is called the "Pay Copy" by the way because someone wrote payment info for the book's contributors right on the comic.
The most recent recorded sale of this comic was as recent as February 2009 when a CGC 5.5 sold for $20,315.
The actual comic is a 36 page advance copy (prototype) of the planned theatre giveaway. What makes the comic a major key is that it contains an 8 page story introducing Namor the Sub-Mariner by Bill Everett.
Later in 1939 Everett expanded the original 8 page Motion Picture Funnies Sub-Mariner story to 12 pages for publication in Marvel Comics #1 (October 1939).
Sub-Mariner predates Batman and the character is such an integral part of the Marvel universe I just don't understand this book realizing a little above 10% of what comparable copies of Marvel Comics #1 would trade for. Going back to Overstreet Guide #8 (1978) I believe this comic was ranked 3rd in value only behind Marvel Comics #1 and Action Comics #1. What happened?
It's obvious to me that the Overstreet Guide and the market (limited as it may be) are both undervaluing this book. Sales have occurred in 2002, 2005, 2008 and 2009 and, like an overdue volcano or earthquake, I feel this one is due.
Will a copy of this book surface soon? I hope so. When it does will you be ready?
The 43rd edition of the Overstreet Comic Book Price Guide shows $5,000/$10,000/$15,000/$25,000 and $35,000 as the 2.0/4.0/6.0/8.0 and 9.0 price splits.
Strengths that make this comic book a good long-term investment are:
1st appearance of Sub-Mariner
Impossible to find, should be a seller's market for ny owner of this book