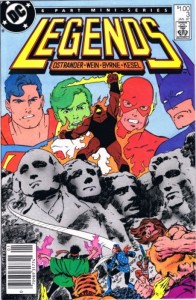 Legends #3, DC Comics, January 1987
The Suicide Squad made its first appearance back in September 1959 in Brave and the Bold #25. BB #25 is a great comic to own and very undervalued at its 9.2 guide value of $1,800. The book is a tough find though: it rarely comes up for auction. So this week, rather than send you out on a mission impossible, I thought I'd lighten it up and send you after a book with potentially way more upside, at the very least it will be much easier, much more fun and much, much cheaper to hunt down.
Legends #3 features the first appearance of the second incarnation of the Suicide Squad. This new squad is different and distinct enough from the original to merit some attention, especially considering it is most likely that any future movie plans will use something resembling this incarnation (as an episode of DC's Arrow TV show did).
Truth be told I really like the premise of the new squad. These are villains doing duty to lessen their prison sentences. A couple of central characters, namely Deadshot and Boomerang, are permanent fixtures while many others are a changing cast of lesser known villains. This concept enables deaths to regularly occur on missions and when you think about it this makes for some good storytelling possibilities. Though new Squads have appeared since this reintroduction they all borrow off this "expendable" premise introduced with the Legends #3 Squad. Their appearance in Legends #3 led to a healthy 66 issue Suicide Squad run (#23 featured the first appearance of the Oracle) launched in 1987.
I'd like to draw a comparison to perhaps Marvel Premiere #47, the issue that introduced the new Ant-Man. It may not be a perfect example and maybe it's even a stretch but  it highlights the possibility of an updated version of an old premise taking hold and becoming the new standard, the one current pop culture associates with the property.
This book has nothing but potential and it should prove to be relatively easy to hunt down .
There are some early birds definitely on to this book. I noticed a CGC 9.8 sold for $45 two years ago while another CGC 9.8 fetched $115 earlier this month. But don't fear, this is a book you should still be able to find raw in the bargain bins. At post time I could not see any on eBay.
The 44th edition of the Overstreet Comic Book Price Guide shows $6 as the 9.2 price.
Strengths that make this comic book a good long-term investment are:
First appearance new Suicide Squad
Dirt cheap right now
Lots of potential