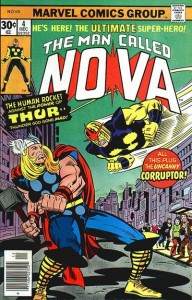 Nova #4, Marvel Comics, December 1976
For this week's Undervalued Spotlight I'd like to go with a book that gives us a new villain, has great eye appeal, won't break the budget and tracking one down won't be like finding a needle in a haystack.
I've always liked Nova #4, such a striking cover. When it came out I was 12 years old and I'd already developed a habit of running down to the variety store to cash in milk jugs for comics. Nova was a big thing back in the neighborhood, I remember I missed the first couple of issues and I ended up trading a Spidey #150 for a Nova #1. Probably still a fair trade even today.
Nostalgia aside Nova #4 quietly, almost unassumingly brings to the table many of the attributes I associate with comics worthy of demand and value.
Let's see, there's that great battle cover drawn beautifully by Jack Kirby, there's the Thor cross-over, there's the 1st appearance of The Corruptor and there's the fact that the book sits nicely snuggled in a title getting more and more attention.
The Corruptor is actually a very cool villain, He's a chemical worker (Jackson Day) who transforms into evil incarnate while trapped in a chemical fire. Transformed, his sweat glands release some sort of chemical that can make any person he touches lose all social inhibitions. Once your inhibitions are gone the Corruptor gains control of your will and has you do his bidding. Don't invite this guy to a party!
In Nova #4 Thor's attempt to rescue Day from the fire goes wrong, by the time Thor reaches him Day has already transformed into the Corruptor! Thor is turned into an unwilling pawn and engages in battle with Nova. Luckily for Thor and Nova the Corruptor keeps changing back into human form right in the thick of the action allowing our heroes to win the day.
Nova #1 right now is all the rage, CGC 9.2s get $140 while CGX 9.6's fetch close to $500.
In no way am I saying that Nova #4 should compare to Nova #1 in value, I just want to highlight that more people will take notice of this very collectible issue now that Nova's stock in the Marvel U has begun to climb.
Right now you can probable pick up a CGC 9.6 for a little more than $50; you can also find beautiful raw copies for less than $15.
For me Nova #4 is a book that falls into that "they don't know they want it "category and I believe in the years to come many collectors will indeed start to realise that yeah, that book is a keeper.
The 44th edition of the Overstreet Comic Book Price Guide shows $10/$14/$18 as the 8.0/9.0/9.2 price splits.
Strengths that make this comic book a good long-term investment are:
1

st

 appearance Corruptor
Great Kirby battle cover
Thor cross over
Very cheap but delivers lots