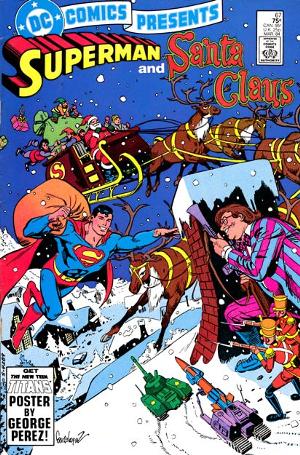 DC Comics Presents #67, DC Comics, (March 1984)
I spent way too long narrowing down this week's Christmas themed Undervalued Spotlight. It sure was fun perusing through so many very cool Christmas themed comics though. It became apparent to me that there are actually two collecting strains present here, the first is a Christmas themed comics strain and the second is the rarer Santa Claus themed comics strain.
DC Comics Presents #67 is an example of the latter and it won the day for me because the book uses Santa as a headlining character, sharing top billing with Superman.
The DC Comics Presents title featured Superman team-ups. Must haves out of this run include #26 (featuring the 1st appearance of the New Teen Titans), #47 (He-Man's 1st appearance in comics) and of course our issue #67 co-starring Santa Claus.
This isn't the first time our two heroes have met. Sups and Santa go way back, check out Superman helping Santa out in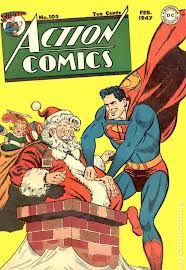 1947's Action Comics #105. What a great cover!
Of course Santa has been used countless times in comics but mostly as a point of reference, a cameo guest to the story. With DC Comics Presents #67 Santa is the story.
Len Wein's 23 page "T'was the night before Christmas", beautifully drawn by Superman stalwart Curt Swan finds Santa teaming up with Superman to foil Toyman's diabolical plan to use rigged toys to defeat Superman on Christmas Eve. With Santa's help Superman stops Toyman. Sups returns the favor by helping Santa replace all the evil toys with good ones and deliver all the toys to the kids of Metropolis. I think I'm gonna cry.
Every comic collection needs at least one neat Christmas issue and with DC Comics Presents #67 this can be accomplished for a measly buck or two.
Merrry Christmas.
The 44th edition of the Overstreet Comic Book Price Guide shows $4 as the 9.2 price split.
Strengths that make this comic book a good long-term investment are:
Santa and Superman take on Toyman!
Can be found in dollar bins – if you are lucky