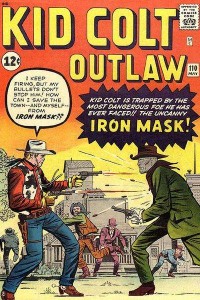 Kid Colt Outlaw #110, Marvel Comics, May 1963
Can there be anything more dead (deader?) than Marvel Westerns? Yeah! Non Marvel Westerns I guess!
But they say the best time to buy is when the market is low and Marvel Westerns my friend are pretty low.
I've actually got a half decent run of Marvel Westerns, nothing too fancy but I have a smattering of Rawhides, Two Guns and Kid Colts plus a whole whack of those Giant Mighty Marvel Westerns tucked away in a long box somewhere. They are tucked away because I like them way better than the market likes them and I refuse to put out nice tight copies from the mid-1960s to mid-1970s in discount bins.
I was making room for another box of Charlton Romance comics (quality stuff) and tripped over this bin of westerns. There's some pretty neat books in this box. I found a mid-grade copy of Kid Colt Outlaw #107 in there, you know the one with the Kirby Sci-Fi cover. The next book that caught my eye was this week's Undervalued Spotlight pick, Kid Colt Outlaw #110.
Kid Colt Outlaw #110 features the first appearance of Iron Mask. Iron Mask (the Guide lists him as an Iron Man type villain), a blacksmith that makes himself an iron mask and an iron vest and goes around pulling heists. In this first issue Kid Colt takes him down by shooting him in the unprotected arm causing Iron Mask's gun to fall. Iron Mask is sent to jail and the story continues. In Kid Colt Outlaw #114 we learn that Iron Mask was a model prisoner and got to work in the prison metal shop, he of course made himself a full iron suit and escaped prison. gets the better of him again, this time around Kid Colt gets Iron Mask to go through a lake where the water rusts the iron suit.
The Iron Mask has been called the Dr. Doom of the old west. Needless to say I think this is a strong character and a great villain for the time setting, blacksmiths, bullet proof iron, hold ups etc!
Here's the thing, this book should be worth more than it is just because I say so. I mean that Kirby sci-fi cover guides at $400, three times this issue's price. May 1963 puts this book into the very beginnings of Marvel, in those early days of the round 12 cent bubbles, two months after Iron Man and two months before Doctor Strange, it introduces a great character and is legitimately a hard to come by book. So what's it doing fetching only $100 and change in high grade?
As I said, all things being as is this book should be double maybe triple the price but heaven forbid Marvel ever gets a crazy idea about testing some fences with its rich Western catalog…
The 44th edition of the Overstreet Comic Book Price Guide shows $49/$92/$135 as the 8.0/9.0/9.2 price splits.
Strengths that make this comic book a good long-term investment are:
First appearance Iron Mask
Round 12 cents!!
Way too cheap in the Guide
Early Marvel, predates Doc Strange