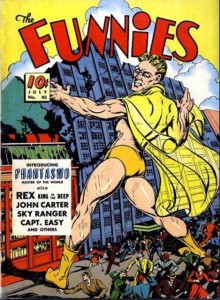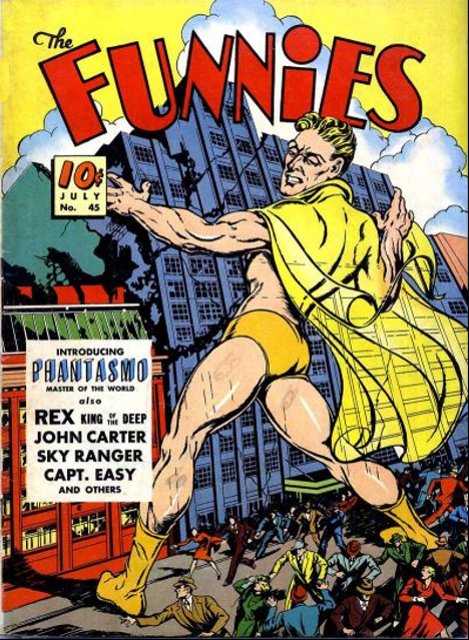 The Funnies #45, Dell Publishing, July 1940
It's been 13 Spotlights since I last featured a Golden Age book and if I do anything here on the Spotlight it's spread it around.
This week I'd like to feature The Funnies #45 as my Undervalued Spotlight.
The Funnies #45 is actually a historically significant book, it features the 1st appearance of Phantasmo who is Dell Publishing's 1st ever superhero.
Usually the 1st superheroes of the big comic book publishers go for big bucks. Just look at the value of DC's 1st superhero book Action Comics #1 then have a look at Marvel Comics #1 to see how Timely's 1st superheroes are doing value wise and then have a quick look at Fawcett's Whiz Comics #2 (#1).
Of course you'll mention that Superman, Torch/Subby and Captain Marvel are still all viable concerns today and you'd be right.
Fox Features Syndicate's Wonder Comics #1 is perhaps a more fitting comparison. This May 1939 comic featured Wonder Man's only appearance thanks DC suing because the character was a knock off of Superman. Granted Will Eisner created the character but the character went nowhere. Wonder Comics #1 guides at $36,000 and Wonder Man only appeared once, Phantasmo appeared 19 times and graced many covers too.
I can even see the injustice by looking at Captain Midnight's 1st appearance later in the same title, The Funnies #57. I like the Captain Midnight intro and don't disagree with the Guide's $6,200 but compare that to the measly $1,475 they give to #45 and you want to cry foul.
This just happens to be one of those books the Guide has wrong, lesser books around it Guide at more and historically comparable books have exponentially higher Guide values.
Dell Publishing was a major comic book publisher, they probably sold more comics between 1940 and 1960 than any other publisher. Their 1st foray into the superhero genre should Guide at more than what a common run book in the teens from the Silver Age guides at!
This book is simple way to cheap in the Guide!
The 44th edition of the Overstreet Comic Book Price Guide shows $603/$1039/$1475 as the 8.0/9.0/9.2 price splits.
Strengths that make this comic book a good long-term investment are:
Origin and first appearance Phantasmo, The Master of the World
1st Dell Publishing super hero
Waaaaay too cheap in the guide