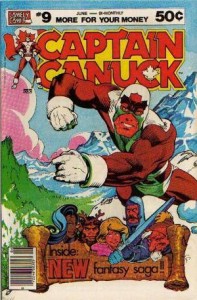 Captain Canuck #9, Comely Comix, April/May 1980
I'm quite lucky having Captain Canuck creator Richard Comely sign at my booth at some of the local comic cons. He's a very personable man with a legion of fans: he's always busy chit chatting and signing any Canuck memorabilia the people bring to him.
At a recent con (the Niagara Falls con) many folks commented on how much they loved the new Captain Canuck #1 comic that arrived at comic book shops in late May. The fine folks at Chapter House Comics have a winner on their hands with this 6 part mini-series; look for issue #2 to hit the stands in late June.
In the interest of transparency I should mention that I am producing the Classic Canuck back up stories appearing in each of the new Canuck comics. Though they are not tied into the continuity of the new Canuck they are still pretty darn good!
I'm telling you Canuck is back with a vengeance. I checked GPA and saw the last sale of a CGC 9.8 Captain Canuck #1 from 1975 was $249. That is a strong result and the figures are trending upwards. Don't say I didn't tell you so back in Undervalued Spotlight #76.
Anyway, in one of the few lulls we had during the con Richard filled me in on an exciting new project he and the folks at Chapter House Comics have embarked on. Yes, the world of Beyond is being re-mastered and two new chapters are being written to complete the story. Read about it here.
The plan is for the graphic novel to be completed late summer or early fall.
This week's Undervalued Spotlight shines on Captain Canuck #9, the book that introduces us to the world of Beyond. This fantasy tale boasts Canuck creators and Joe Shuster Award Hall of Fame inductees of 2010 Richard Comely, Claude St. Aubin and George Freeman as the creative team.
Captain Canuck #9 is deceptively hard to find: you'll have an easier time finding a #1 but nice copies of #9 are out there so do some digging. The great news is that this comic is still very cheap: you can find high grade copies for $4 to $8 if you dig in the right places
Please don't be too quick in brushing off this week's pick. The Chapter House Comics people are doing the new Canuck stories right and I see no reason why they wouldn't continue with the same quality work when producing this book.
All the factors we need for a price increase are in place: relative scarcity, cheap current prices and a planned re-boot that not many people knew about. Happy Hunting.
The 44th edition of the Overstreet Comic Book Price Guide shows $6 as the 9.2 price split.
Strengths that make this comic book a good long-term investment are:
First World Beyond
Way too cheap right now and surprisingly hard to find
Future reboot in the works