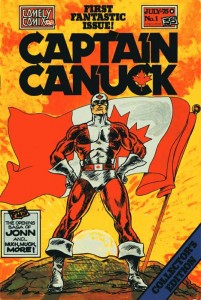 Captain Canuck #1, Comely Comix, July 1975
Last week I went to a local comic convention and snagged a beautiful near perfect copy of Captain Canuck #1, the independent comic Richard Comely published back in 1975. I paid $5.00 and walked away feeling like I got a great deal!
Captain Canuck is no doubt the most famous independent Canadian superhero. Tom Evans a.k.a. Captain Canuck operates in the future (1993) where Canada is the most powerful nation on earth. Like a true patriot our hero fights crime for the Canadian Secret Service.
Richard Comely himself claims the comic to be the first independently published color superhero comic book! The print run for issue #1 was 200,000 and 110,000 of these were distributed to newsstands – the mass market in Canada. A few thousand were sent to newsstands in border US cities. In an e-mail to me Comely claims that Doug Sulipa, who's Winnipeg comic book store was one of Canada's first, "probably bought about 10,000".
Comely, being noble at heart sold about 5000 copies to a med student who was selling comics to support himself. The creator fondly remembers that "he didn't pay me for his last 2000." Well if this kid is a doctor now I don't want him operating on me!!
About 10 – 20,000 copies were destroyed in late 1975 while stored at a warehouse where they were being bagged.
Captain Canuck was the first comic book ever colored using the painting on acetate overlay method developed by Comely; this method does give the book a very unique and distinctive style.
In Canada the character has a solid fan base almost approaching cult status. Fans are not limited to Canada; Captain Canuck enjoys a strong fan base across the USA as well.
Has the Captain's time finally come?
In 1995 our hero appeared on a series of Canadian Stamps.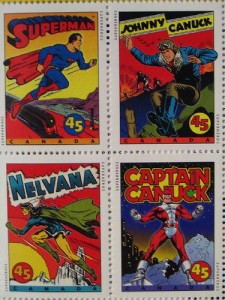 IDW has successfully produced two hardcover volumes of the original Captain Canuck series, selling out of their first print run. Comely is actually holding back the original issues #1-3 plus #15 and plans to publish these stories in a separate graphic novel.
Movie rumors abound about a $15 million film project.
In 2010 creator Richard Comely and his assistants George Freeman and Jean-Claude St. Aubin were inducted into the Joe Shuster Awards Hall of Fame.
It's obvious; to me at least, that Chris Claremont and John Byrne were very much influenced by Captain Canuck when they created the Guardian in 1978. Guardian, a Canadian, was the leader of the Canadian superhero team Alpha Flight.
I'm telling you this book is going to start to be sought after in the near future! Pick them up while you can!!
The 40th edition of the Overstreet Price Guide shows a $5 value at the 9.2 grade.
Strengths that make this comic book a good long-term investment are:
Super cheap to buy even in high grade
1975 an early year for the independent comic scene, predates Cerebus
Successful graphic novel project just completed
Surely influenced Byrne and Claremont's Guardian character, developed in 1978
A Captain Canuck movie?