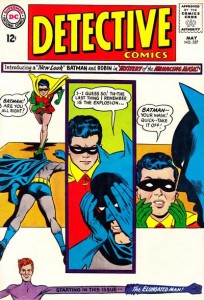 Detective Comics #327, DC Comics, May 1964
With all the changes comic book characters go through these days it's hard to imagine a time when concepts, costumes and even title logos changed little over decades.
This week's Undervalued Spotlight pick Detective Comics #327 represents a revolutionary change for the Caped Crusader and should be an important piece of any Batman collection.
In 1964 DC Editor Julius Schwartz was given the task of breathing new life into a stale Batman line. Batman had degenerated into comical fantasy /sci-fi shtick that features often very silly story lines. All you have to do to see how far Batman had drifted from his roots is check out the cover to the month earlier's Detective Comics #326, "Captives of the Alien Zoo". Nuff said.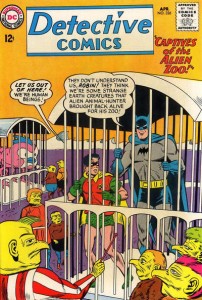 Sheldon Moldoff's Roger Ramjet Batman chin made way for Carmine Infantino's more lifelike renderings of Batman. We really can't overstate just how important this all was to Batman fans of the time. The art style changed, the stories changed, Batman was getting a much-needed makeover. Oddly enough Batman was one of the last DC characters to get a Silver Age makeover, this was an important step in modernizing the character.
This "New Look" Batman features for the first time the now familiar yellow oval containing the Batman logo, another notable event in this issue was Batman pulling a gun on some criminals. Also in this issue we get a new back up story. Martian Manhunter was out and the Elongated Man was in. One can't help but wonder whether the success of Marvel's Fantastic Four and the popularity of Mr. Fantastic influenced the decision to add the Elongated Man as the back up feature. Personally I'm one to assume the whole Batman makeover was due to DC taking note of the revolution being spawned by the fellas down the street at Marvel.
So we have some notable factors helping to differentiate this book, lets add the fact that it chronologically belongs in the tail end of the DC Silver Age updating period. The next macro trend in collecting will be the rise of the Silver Age DC keys. JLA, Wonder Woman, Suicide Squad, Aquaman etc are all about to explode onto the mass pop culture market through movies, related media and merchandise. Detective Comics #327 may be an affordable investment in this now almost out of reach segment of the market.
The 44th edition of the Overstreet Comic Book Price Guide shows $91/$201/$310 as the 8.0/9.0/9.2 price splits.
Strengths that make this comic book a good long-term investment are:
The Batman gets a much-needed makeover
Early DC Silver Age is a hot segment of the market
Super cheap relative to everything else