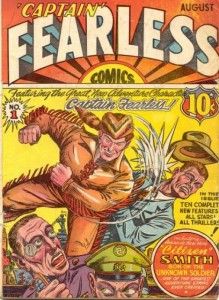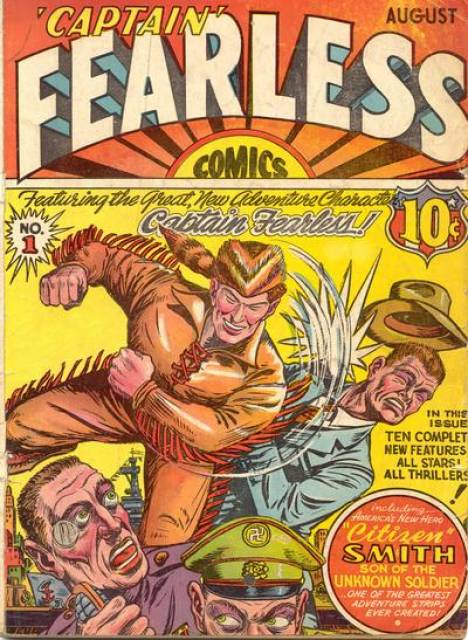 Captain Fearless Comics #1, Helnit Publishing (Holyoke), August 1941
Happy Canada Day fellow Canadians. Since I blew the wad early and picked Captain Canuck #9 as my Spotlight a mere two weeks ago I thought it would be kind of cheating if I went all Canadiana again so soon.
Luckily our friendly neighbors to the south are celebrating their Independence Day this Saturday July 4th so I can still post a patriotic themed comic. Happy 4th of July U.S.A.
We've touched on the surging market in female superheroes many times on this site. Right now there are few Golden Age books hotter than All Star Comics #8, Tales to Astonish #44, Tales of Suspense #52 and Detective #359 are all hot Silver Age books while Batman Adventures #12 continues to defy logic as a Modern Age example. Strong female characters have given comic investors great returns lately and I expect the trend to continue.
I'll try and tie in the patriotic theme and the heroine theme with my Undervalued Spotlight pick for this week. I'll go with Captain Fearless #1 featuring the 1st appearance of Miss Victory. Miss Victory is thought to be the 1st patriotic female hero in the tradition of the Shield and Captain America.
Miss Victory appears a full 4 months before the debut of Wonder Woman and only 2 months after All Star Comics #5 which featured comic's 1st heroine Hawkgirl. I'd also like to note that Miss Victory came out the same month as Canada's own heroine Nelvana of the Northern Lights (Triumph Adventures #1 August 1941).
Miss Victory appeared in Captain Fearless #2 then she became a back-up feature in Captain Aero Comics up until 1946.
So our Miss Victory is like the 1st patriotic heroine, tied perhaps for 2nd as a female hero in general. These are strong points and based on these facts alone I think I'd still go with this pick.
Surely then a little superhero team called the Femforce puts no doubt into this week's pick. The Femforce first appea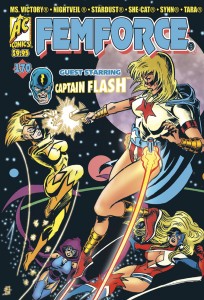 red in 1985 in Femforce #1, published by Bill Black's AC Comics (a strong spotlight candidate itself). Femforce is amazingly still published today; it comes out quarterly and the latest issue is #171. That's a 30 year run!
The Femforce is an all-female superhero team, the 1st and easily longest running such title. It contains great characters like She Cat, Rio Rita, Nightveil and oh yeah the team is led by our fearless Miss Victory.
The 44th edition of the Overstreet Comic Book Price Guide shows $553/$952/$1350 as the 8.0/9.0/9.2 price splits.
Strengths that make this comic book a good long-term investment are:
First appearance of Miss Victory
First female patriotic hero?
Second female superhero?
Still very active enjoying a 30 year run on Femforce
Female heroes still rising in price
Guide price seems way too cheap for an early Golden Age #1 delivering so much