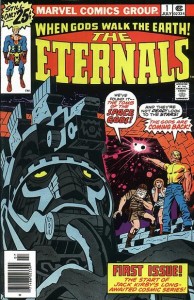 Eternals #1, Marvel Comics, July 1976
You can blame Mike Huddleston for this one. Mike did a guest Spotlight post last week and picked a great Jack Kirby book in Thor #134. His post got me all Kirby'd up. Yes it is possible to get Kirby'd up, I'm sure it's happened to you and you didn't even know it. Anyway I was pricing up a pile of books when I happened on a nice stack of Eternals. Here's the thing, I put the books aside, I didn't price them because the current market just doesn't appreciate them like it should, I threw them back into the vault.
There's lots to like about Eternals #1 most of all there's the ridiculously low price it can be acquired for as of this post. CGC 9.4 copies can be had for just over $50 while CGC 9.6 copies will only cost you $70ish.
First off Eternals #1 represents the 1st appearance of the Eternals, that cosmic of cosmic concept from the great Jack Kirby.
Kirby, after leaving Marvel in 1970, created the New Gods concept over at DC. The Fourth World titles he was working on were cancelled before he could resolve the story lines. Kirby then returned to Marvel and created the Eternals which unfortunately were also cancelled before any plot resolution. What the heck was wrong with Marvel and DC back then? Let the King finish his train of thought!!
I haven't read all the DC Fourth World stuff but I have read the Eternals and all I can say is how massively grand its ambition is/was. There really is way to much to explain here, do yourself a favor though and read up on the Eternals.
Contemporary Marvel #1s from the era like Invaders #1 (guides at $95) and Inhumans #1 (guides at $75) only give us title launches: Eternals #1 gives up the 1st appearance of the Eternals, the Celestials and a concept bigger than anything Marvel has seen.
Marvel has currently chosen the cosmic path. How long before we see the Eternals in the mix.
44th Overstreet price breaks for this book are 8.0 $16/9.0 $23/9.2 $30.
Strengths that make this comic a good investment are:
First appearance of the Eternals
Way too cheap in the guide and on the current market