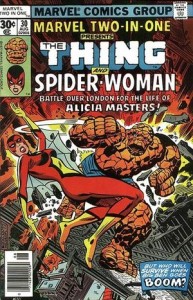 Marvel Two in One #30, Marvel Comics, August 1977
Can there be a more maligned title than Marvel Two in One? I mean you know you suck as a collectible title when the most sought after book in your run is an Annual (Two in One Annual #2 of course). Is there any hope for this title?
Over the last few years the market has been flushing out all kinds of books we once thought were worthless and turning them into hot properties. The whole thing has turned into a bargain bin reclamation project or perhaps a worse way to put it would be to say there is a sort of gentrification of the bargain bins going on.
This week I'll do my bit to keep flushing and shine the Undervalued Spotlight on Marvel Two in One #30.
Marvel Two in One #30 features the second full appearance of Spider Woman. The book has not moved in the Guide since last year, holding at $16 in the 9.2 grade. It's tough to get $16 for nice raw copies of this book, tops you are paying right now is $5 and it's easy to find them for less.
Compare Spider Woman's second appearance with her first and we see a big discrepancy. Marvel Spotlight #32 (Spider Woman's first appearance) jumped 150% in the Guide from $50 to $125 and it has been a darling of the market for some time now.
So what are we looking at here? I'm betting it's a time lag thing and I'm betting the second appearance issue will eventually catch on and gain some good value after all we all know how great a collecting strain second appearances are. Collecting second appearances may be the huge wave of the future as 1st appearances price themselves out for most of us.
Speaking of collecting strains, this is a 30 cent Marvel and these 30 centers are themselves becoming a cool collecting strain. Correct me if I'm wrong but I believe the 30 cent covers had the shortest existence duration of any of the Marvel cover prices, 14 months?
Our comic features Spider-Woman teaming up with the Thing with appearances by Nick Fury and Mike Huddleston's favorite, the High Evolutionary.
A CGC 9.6 graded copy sold for $28 last summer but a CGC 9.4 copy got $47 this April while a CGC 9.8 just set an all-time high of $128. You see that things are moving, I've given you the numbers. I think it's time for you to start digging into those bargain bins!
45th Overstreet price breaks for this book are $9/$13/$16 in the 8.0/9.0/9.2 grade splits.
Strengths that make this comic a good investment are:
Second appearance of the Spider Woman
Bargain box book that doesn't belong in the bargain box, it should be nestled in beside your copy of Marvel Spotlight #32