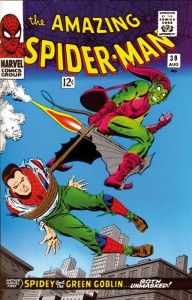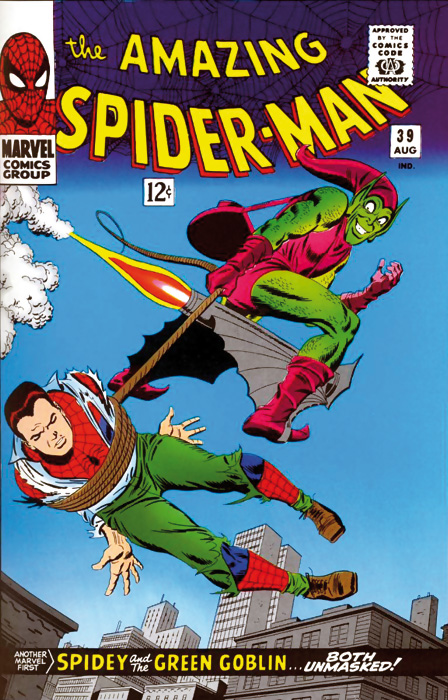 Amazing Spider-Man #39, Marvel Comics, August 1966. Story by Stan Lee, Art by John Romita Sr. Inking by Mickey Demeo (pseudonym for Mike Esposito).
Mike Huddleston takes the reins of the Spotlight this week and anyone who's read some of Mike's older Spotlight picks knows that this is a good thing. Mike's Spotlight picks are always written with a passion for the hobby, a deep knowledge of the subject matter and a great nose for value. Mike has chosen a stellar pick this week so why don't we let the man have his say. Walt
This weeks spotlight is on one of my three favourite Amazing Spider-Man comics of all time – Amazing Spider-Man #39.  Issue #50 is another and I have a whole bunch tied for 3rd place.
Anthony Falcone already did a nice piece on this book in his column Does Whatever a Spider Can earlier in the year and he gives a solid story synopsis on issue #39 and the conclusion of the story in issue #40.
So I am a clearly a big fan of this book, but how is it undervalued?
For me it is undervalued in its importance. When I look back at the history of Spider-Man and issue #39, this book is almost like a new #1 for the title, and probably would be if they cancelled and re-started titles back then like they do today. It is in my opinion one of the Amazing Spider-Man's most important comics of all time.
It starts with the art. John Romita began his famous run on Amazing Spider-Man in this issue, taking over the reigns from Steve Ditko who illustrated the first 38 issues on the title.  By the time issue #42 had come to its famous last panel, Romita had taken over complete control of the book and I would say most of Spidey fandom. You wouldn't find too many kids or teenagers who didn't favour Romita's version of Peter Parker/Spider-Man and his friends (Mary Jane and Gwen) over Steve Ditko's version of the same group. Romita's style meshed perfectly with Stan Lee's soapish writing style and the already popular character went off the charts – they had a hit. A big hit. Many artists have done wonderful renditions of Spider-Man, but for me the John Romita version of Spider-Man is the one that resonates with most fans. I can't think of an artistic change in a popular comic title that had more of a positive long-term impact than this one (and there are a lot of them).
In Anthony's write up you read about the two big secret identity reveals in the book. It is hard for me to articulate just how big a deal that was back then. The Green Goblin returns to the book after a year away and Stan Lee pulls out all of the stops on this one.  The Green Goblin has a plan to destroy Spider-Man, and he executes it to perfection! As a kid you were literally screaming at Spider-Man to turn around and see the Goblin (he had muffled Spider-Man's spidey sense) when he was following him and watched him change to Peter Parker. When the Green Goblin catches Peter Parker outside Aunt May's house in his civvies you felt the same helplessness that Peter felt. It was a very powerful book and conjures up those old feelings even when I re-read the book today. The revealed identities played out tragically for many characters and for many years following this book
I have always seen this book as a blue chipper. It doesn't have huge spikes in price but always seems to be steadily moving up. You can say that about other big issues like ASM# 3, 14, & 50 as well.  I do think this book has a lot more room to appreciate against these books and will over time. This book is already outpacing current Overstreet values at auction and I expect that to continue in to the future. It has finally caught up to ASM #40 in the 45th Overstreet guide which was way overdue.
45th Overstreet splits for this book are 8.0/$274, 9.0/$612, 9.2/$950
Reasons to buy this book:
First John Romita artwork on the Amazing Spider-Man title
First reveal of Spider-Man's secret identity
First reveal of the Green Goblin's secret identity (Norman Osborn)