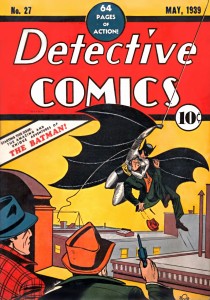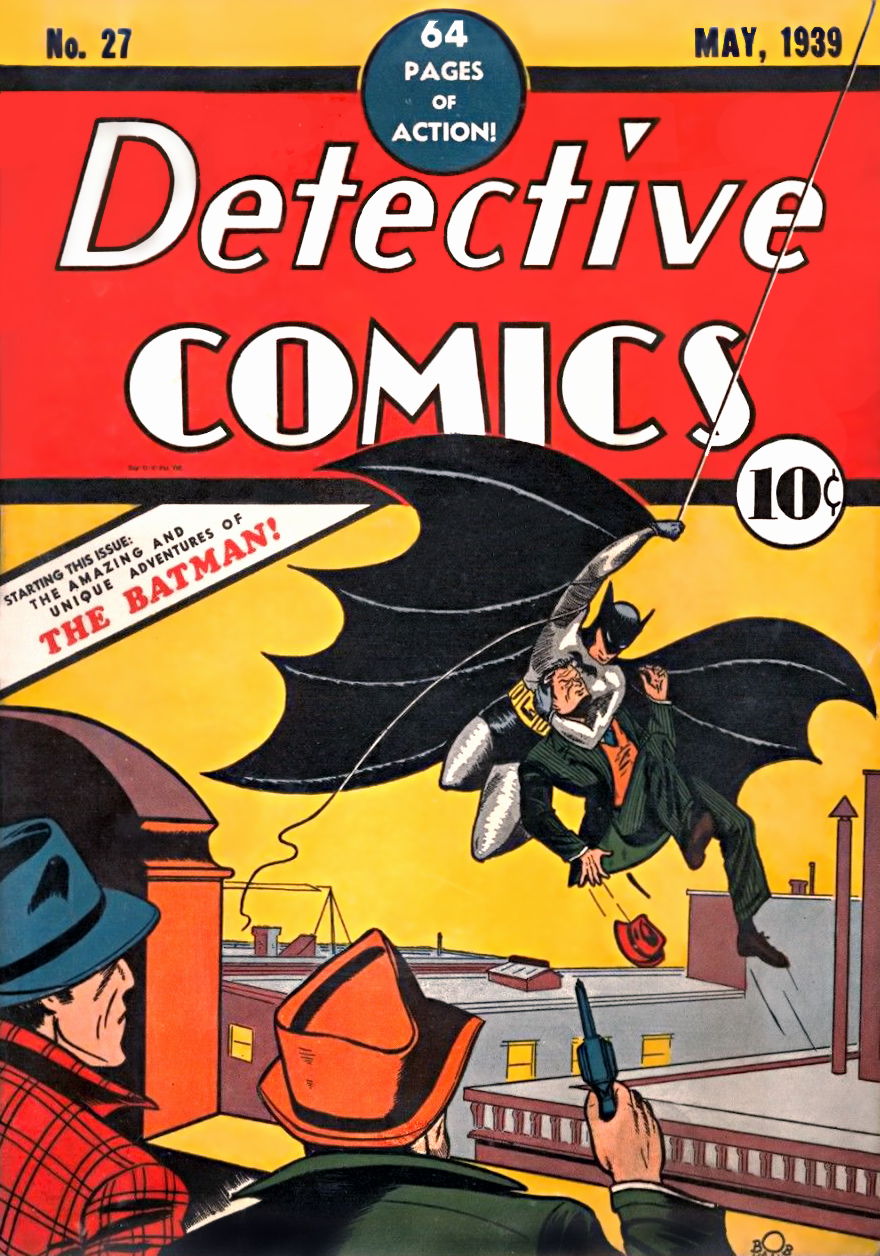 Detective Comics #27, DC Comics, May 1939
I've always wanted to write-up a complicated essay on Detective Comics #27.
Over the years I've had a couple of abortive starts, giving up when I realized the work needed to do it right.
I would like to express my view though. So what's a guy to do?
Luckily the Undervalued Spotlight doesn't demand thesis type arguments and it doesn't demand that you agree with me. I'll have to deviate just a bit from the regular spotlight template to make this argument. So with foolish bravado I present Detective Comics #27 as this week's Undervalued Spotlight.
My argument is simple: Detective Comics #27 should be the most valuable comic of all.
I'm not arguing so much that Action #1 is overpriced; I'm arguing that Detective Comics #27 should be worth more and thus it is undervalued. This view obviously puts me in direct opposition to the long-held, now almost default view that exists in the hobby that Action Comics #1 should be the most valuable comic book.
Action Comics #1 represents the birth of the superhero genre; it is the book that made everything we see around us possible, and I cannot argue this.
Detective Comics #27 represents the first appearance of what I am arguing is the most important superhero we have. Batman is effortlessly transitioning into his fourth generation of readers and fans and it seems to me at least that he is becoming more popular, more important with each successive generation.
Superman has been struggling to connect with the fan base for more than 20 years now. DC/Warner continue to throw their weight behind Superman but often with disappointing results. I don't see Superman ever going the Mickey at Disney route. Superman is still a very popular and viable property but it's hard to argue against the fact that Superman has long been eclipsed by Batman and that the gap is widening.
So it must come down to which is more important: what the book represents or what the book delivers. I'll argue that symbolism is important to comics: Funnies on Parade, Eerie #1, Showcase #4 and Fantastic Four #1 are all revered for what they started, indeed much of their value comes from what they represent. Symbolism should never trump character introduction though. Character should be the most important driver of value.
Factors like scarcity affect value as well so among equally popular characters the one with way less supply will most likely be the more valuable.
Scarcity actually favors Detective Comics #27 because while slightly scarcer on the CGC Census of has been much scarcer, about twice as scarce, in terms of the number of copies coming to market. There are only 31 non restored Detective #27s on the CGC census compared to only 36 non restored Action #1s. Only 4 tracked sales on the GPA since the start of 2013 for Detective #27 compared to only 6 tracked sales during that same time for Action #1. I've read of more private sales of Action Comics #1 as well but for all intents and purposes both are hard to come by so scarcity should not be an issue in any price variation between these books
Again Action Comics #1 represents the first superhero much the same as Funnies on Parade represents the first comic book. Action comics gives us Superman while Detective Comics gives us Batman. I'm arguing Batman trumps Superman as a fictional creation. The Batman character has proven to be the more popular platform for storytelling over multiple media. The Batman platform has also given us a ridiculously rich stream of villains, allies, love interests and sidekicks which continues to grow.The gulf between the two characters has been getting wider since the 1970s, the gulf is huge right now.
This is no blip, this trend is decades old and continues.
Look at it this way, Detective Comics #27 shouldn't be anywhere near Action Comics #1 in value. Iconic DC characters like Flash, Green Lantern and Wonder Woman are worth a fraction. Important books from other publishers like Timely's Marvel Comics #1 and Captain America #1 don't come close either. Yet there's Detective Comics #27, always staying in sight of the leader.
Detective Comics #27 generates its enormous value through its introduction of the Batman. It almost seems like there is a glass ceiling for this book and that glass ceiling is Action Comics #1.
The comic collecting hobby's history has influenced this dynamic and if anything has sold this view to the new money coming into the market. The latest Overstreet Price Guide has Action #1 about 25% higher in value that Detective #27 with an annual increase in value of 11% for Action versus Detective's 10%. The only real comparable result pits a CGC 5.0 Action #1 sale for $658,000 versus a CGC 4.0 Detective #27 sale for $475,000.
Though the market has it closer than the Guide Action #1 is still getting 10% more per grade point than Detective #27.
Scarcity plus current relevance plus projected future relevance has me calling for Detective Comics #27 usurping Action Comics #1 as the most valuable comic book.
45th Overstreet price breaks for this book are $100,000/$200,000/$300,000/$750,000 in the 2.0/4.0/6.0/8.0 grade splits.
Strengths that make this comic a good investment are:
First appearance of the Batman, the comic medium's greatest creation