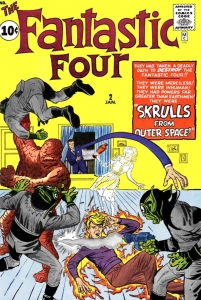 Fantastic Four #2, Marvel Comics, January 1962
I present Fantastic Four #2 as this week's Undervalued Spotlight.
I think Fantastic Four #2 deserves a bit of an upgrade in its profile. Now hear me out.
January 1962, Fantastic Four #2 came out the same month as Tales to Astonish #27 (1st Hank Pym Ant-Man without costume). Fantastic Four #1, #2 and Tales to Astonish #27 are the only Marvel hero books (though Tales To Astonish #27 is technically not actually a hero book) early enough to carry a 10 cent cover. These are early, early days.
Fantastic Four #2 is a pivotal issue. It is the successful expansion of the beachhead won by Fantastic Four #1. It is the 1st issue to add to the Marvel Universe. It is in a sense the 1st true Marvel in that it introduces a concept and a direction that Marvel has built on over the past 54 years. It's success fans the coming Marvel Revolution. It is nothing less than the birth of Cosmic Marvel.
Second issue Marvels have not performed well over the past decade. Our Fantastic Four #2, Tales of Suspense #40 (Iron Man), Avengers #2, Daredevil #2, Sgt Fury #2 and X-Men #2 have been comatose for years. Never mind Amazing Spider-Man #2, which is really a #3 yet still enjoys Price Guide parity with Fantastic Four #2. All these books have seen their parent issue take off to stratospheric heights while they have been stuck on the ground.
Have the 1st issue climbed so high that these 2nd issues will start to get noticed? I think we may be entering that phase and I think the second issues that actually bring things to the table, like our Fantastic Four #2, will be the first out of the blocks.
As I said earlier Fantastic Four #2 really launches Cosmic Marvel as it introduces us to the Skrulls, those shape shifting aliens at the center of almost everything happening in the Cosmic Marvel Universe today. The Cosmic Cube (Skrulls created it), Captain Mar-Vell, The Celestials, the Kree, the Eternals and many more relevant Cosmic Marvel properties all spring from the Skrulls concept. It all starts with Fantastic Four #2.
The last CGC 8.0 and CGC 9.0 sales were both just under guide and the book is relatively scarce. There are only 62 graded at CGC 8.0 or better and those represent the top 11 percentile.
The 45th Overstreet price breaks for this book are $1,230/$3,700/$8,350/$13,000 in the 6.0/8.0/9.0/9.2 grade splits.
Strengths that make this comic a good long term investment are:
First appearance Skrulls
The birth of Cosmic Marvel