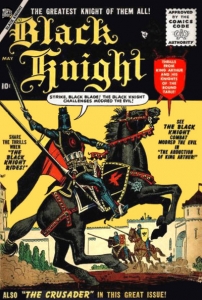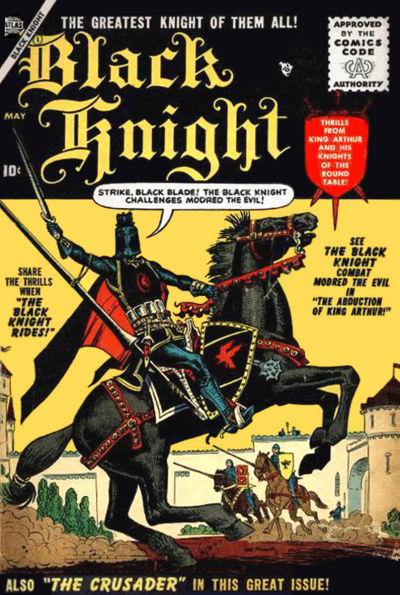 Black Knight #1, Atlas Comics, May 1955
Sometimes writing up a Spotlight opens up all kinds of doors leading to other worthy Spotlights. Case in point: last week's pick. One detail I didn't mention in that pick was the appearance of Morgan le Fey, partly because the book brought enough value with the cover and with the rare Werewolf appearance and partly because le Fey led me to another book I wanted to save for this week.
In Arthurian lore Morgan le Fey was the half-sister of Kind Arthur, lover of the evil Mordred and the sorceress apprentice of Mervin.
Perhaps Stan Lee was a regular movie goer back in the early 1950s, Parsifal (1953), Prince Valiant (1954) and The Black Knight starring Alan Ladd (1954) all delivered great Camelot themed entertainment. I'm sure Stan was trying to tap into the popular awareness of these English legends when he published this week's Undervalued Spotlight pick, The Black Knight #1 in May of 1955.
Black Knight #1 introduces us to the Black Knight, a character recalibrated a number of times over the ensuing decades. This first Black Knight, Sir Percy, segued into Nathan Garrett the Black Knight villain introduced in Tales to Astonish #52 (Feb/1964). Then along came Garrett's nephew Dane Whitman, he first appeared in Avengers #47 then famously became the heroic Black Knight on the cover of Avengers #48 (Jan/68). The spirit of Sir Percy, the original Black Knight has appeared several times to counsel Whitman.
I write all this up to show that this Black Knight has quite the storied history in the Marvel U. Did you know that the Black Knight was an Avenger appearing in almost 100 issues between Avengers # 252 and #375?
Though Marvel tapped into the Atlas Black Knight early in the Silver Age they waited until late into the Bronze Age before re-discovering Morgan le Fey. It was actually Spider-Woman #2 (May/1978) that reintroduced Morgan le Fey, bringing her firmly into the Marvel U by making her an early nemesis of Spider-Woman's. The character even appeared in the 1978 Doctor Strange TV movie, she was played by Jessica Walter. More recently, in New Avengers #53 (July/2009) the Eye of Agamotto appeared to Morgan considering her for a replacement for Doctor Strange as the new Sorcerer Supreme.
It's actually the Morgan le Fey connection to The Black Knight #1 that has me excited the most. The character seems locked into the Doctor Strange world and she should be considered as a character for the new Doctor Strange movie starring Benedict Cumberbatch and Rachel McAdams.
The book does not trade often but when it has over the past few years it has been affordable.
45th Overstreet price breaks for this book are $659/$1130/$1600 in the 8.0/9.0/9.2 grade splits.
Strengths that make this comic a good investment are:
First Black Knight in comics
First Morgan le Fey in comics
1950s Atlas #1 that introduced characters still active today