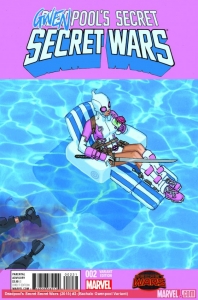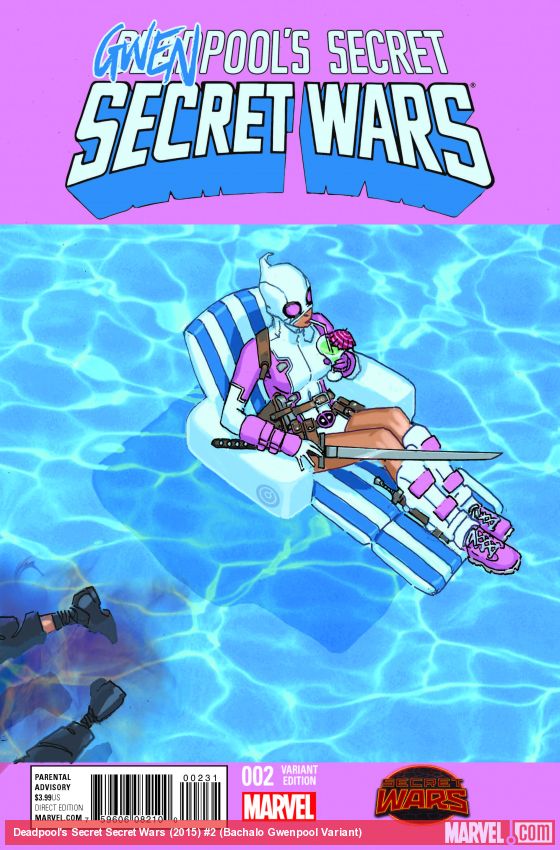 Deadpool Secret Secret Wars #2, Marvel Comics, June 2015
I was talking with the boys at the shop recently; we were arguing the merits of variants. Needless to say we got nowhere. Variants are a tricky business and I'm smart enough to know just how dumb I am when it comes to these things.
Still the discussion left me wondering, could I come up with a solid Spotlight pick that was a current Variant?
Game on!
We convened the next day and started the discussion anew. I focused on some of the fundamentals that hold true for comic valued in the much more familiar territory (for me anyway) of Silver and Bronze Age comics. Character introduction, true scarcity, current and projected popularity of the character etc.
After some back and forth we flushed out this week's Undervalued Spotlight pick, Deadpool Secret Secret Wars #2, Gwenpool Variant.
Gwenpool is a very hot commodity right now. Last week the character made her first formal appearance in Howard the Duck #1. The raw,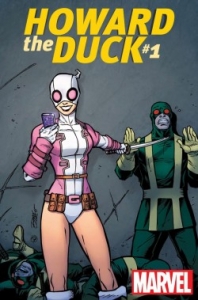 ungraded Gwenpool Variant for Howard the Duck #1 is consistently fetching $80 to $125 on the market. Crazy money.
Though Howard the Duck #1 introduced us to the Gwenpool character for the first time through a back-up story, we can't technically call this her first appearance.
Gwenpool's first appearance is actually on the Gwenpool variant cover to Deadpool's Secret Secret Wars #2.
Gwenpool owes her existence to Spider-Gwen. Spider-Gwen's surprising popularity led Marvel to launch a Gwen-themed variant month in June. Gwenpool seems to be the one that has struck a chord.
She's everywhere, cosplayers came out in force as Gwenpool this summer, Marvel has written her into back-ups in Howard the Duck and I read that there will be a Gwenpool Special in December.
So how will this all play out? Will a silly little pun Marvel tried out actually develop into a new force in the Marvel U? Or will Gwenpool soon be forgotten as a neat little gimmick that had its day?
I for one am throwing my hat into Gwenpool's first appearance one day meaning something and I'm arguing that Secret Secret Wars #2 will settle in as her true first appearance. Sort of like Motion Picture Funnies Weekly stealing Marvel Comics #1's thunder re Sub-Mariner back in 1939.
So I'm betting that this book will meet the criteria of having an important introduction and that the character will have staying power.
To probe into the relative scarcity of this book I jumped on the Comichron and played with the data a bit. According to the site Deadpool's Secret Secret Wars #2 sold 70,256 copies a portion of these were the Gwenpool variant.
You should know that Deadpool's Secret Secret Wars #2 Gwenpool variant was only orderable if shops exceeded their orders of Deadpool #44 by 100%, in other words, double your Deadpool #44 order and you can have all the Gwenpool variants you want.
Deadpool #44 shows 44,888 sold to stores. So it's obvious that some shops took the bait but a 56% increase in print run tells me that the bulk of the extras went to satisfy the doubling of the orders leaving little room for large raw numbers of the variant. By all indications this was not a heavily printed book.
Raw copies of Deadpool Secret Secret Wars #2 have been selling for $20 to $25, a friend of mine picked his up at a recent con for only $10.
Have some fun and play the ultra-volatile spec game that are variants. This one will only set you back a 20 and it brings some decent specs to the table.
This book is too new to be listed in the 45th Overstreet price guide.
Strengths that make this comic a good investment are:
First appearance of Gwenpool
Variant cover offers relative scarcity