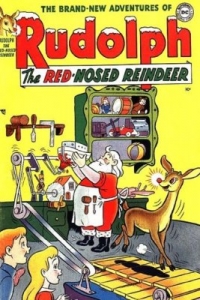 Rudolph the Red Nosed Reindeer 1950 (#1), DC Comics, December 1950
Tis the season to be jolly. Tis also the season to pick a comic book that celebrates the spirit Christmas and that doubles up as an actual comic book investment.
Tis a lofty goal I know but I'm certain I have a winner in this week's Spotlight pick, Rudolph the Red Nosed Reindeer. DC produced a Rudolph comic annually for 13 seasons and the one I'm featuring in this week's Spotlight is the very first one, from December 1950.
DC's from the late 1940s to the early 1950s are very tough books to find. Hero titles from the publisher all but disappeared during this time and DC tried to fill the void with Western, Romance, Humor and Sci-Fi fare. None of these genres competed that well against the sensationalist Crime and Horror material coming out from publishers that included EC. When the Comics Code Authority came in the mid-1950s DC survived relatively unscathed. I add this little history lesson to stress that DCs from this time period are relatively scarce and are generally sought after in the market.
DC's 1950 Rudolph is the first comic adaptation of the character. Rudolph first appeared in 1939 in a booklet written by Robert May and published by Montgomery Ward. In 1948 a Rudolph cartoon was produced marking the characters screen debut.
Rudolph's fate was sealed though in 1949 when Johnny Marks, the brother-in-law of Robert May, wrote the now famous Rudolph the Red Nosed Reindeer song, you know, the one practically monopolized by the 1964 Burl Ives rendering. The original 1949 song was recorded by Gene Autry though and was a huge hit during Christmas 1949. Prudently the 1948 cartoon was then re-edited to include the song and re-released in 1951.
DC's adaptation to Rudolph into comics thus came quick on the heels of the famous song and as I mentioned above stands as the first comic adaptation of the character. We all know comic adaptations of strong properties can find huge demand in the marketplace, Conan, Star Wars and Harley Quinn are glaring examples of this.
One of the key principles of a healthy long term comic investment is future character viability. I'm pretty confident that Rudolph the Red Nosed Reindeer is here to stay and will be eagerly received by each successive generation. Rudolph is a cultural icon that will not go away.
I'm not kidding when I say this book is scarce, as of this post there are only 5 CGC graded copies on the census and the last GPA tracked sale was over 10 years ago in 2005. Find one asap and buy it.
This is a great comic book that will fill you with the spirit of the season now and fill your bank account with a great return a little later (though you may not want to ever give it up).
Merry Christmas to all and to all happy hunting.
The 45th Overstreet price breaks for this book are $144/$237/$330 in the 8.0/9.0/9.2 grade splits.
Strengths that make this comic a good long term investment are:
First comic book adaptation of Rudolph the Red Nosed Reindeer
DCs from this era are scarce and in demand