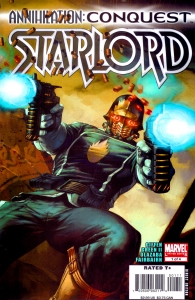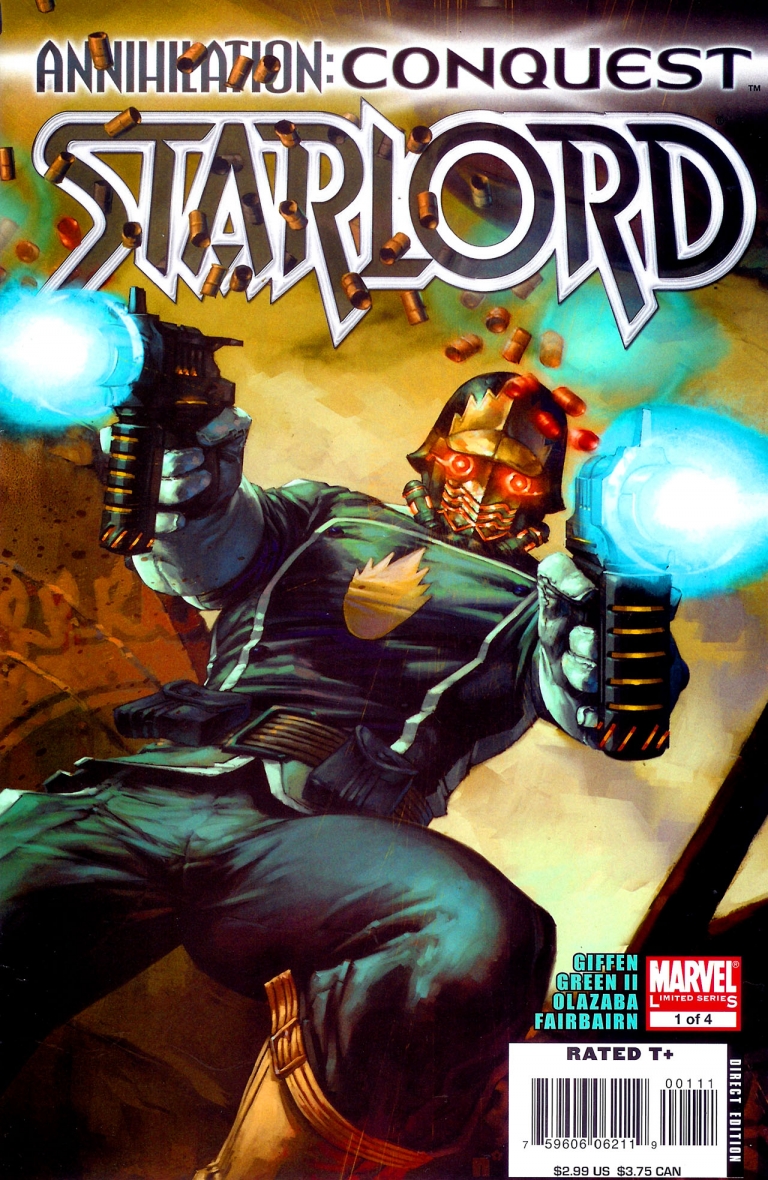 Annihilation: Conquest – Starlord #1, Marvel Comics, September 2007
The comic book marketplace is giving us quite a bit of volatility heading into 2016. We're seeing some old standbys actually lose ground over these past few months and that is making folks nervous. Up here in Canada the collapse of the Loonie (our Dollar) is making things even worse. So I thought I'd lighten the mood a bit by highlighting a book with very little room to go down while still holding potential for some decent gains.
The Undervalued Spotlight's first Modern Age pick of 2016 shines on Annihilation: Conquest – Starlord #1.
Yeah I remember the time when the Annihilation books were hitting the New This Week stands at the local comic shops. There were way too many of them it seemed and I don't recall any of them flying off the stands.
At my shop we were busy bundling up Value Packs (complete sets) with all the unsold books we still had, 4 books for $7.99 if I recall correctly. "Cheaper than the Graphic Novel" was our sales pitch.
We had the Annihilation series proper and all the tie-ins to other titles, then the Annihilation Conquest – Quasar, Wraith and Starlord four issue sets which lead into the Annihilation Conquest six issue series (issue #6 was where the new Guardian's team forms). Interestingly enough it was the Starlord series that was the weakest seller of the bunch with an order total of 35,821 for issue #1.
When the Guardians movie turned out to be a huge hit it was Guardians of the Galaxy #1, the book that the Annihilation project spawned, that got the markets immediate attention. Conquest #6 got good play too because the book was recognized as featuring the formation of the team.
People missed Annihilation Conquest Starlord #1 though and I don't know why. The book features the first meeting of Groot and Rocket Raccoon, it's the issue where they form their bond and partnership. I don't think we should underestimate just how big the Groot/Rocket team can get. These are perfect characters for mass pop culture consumption. I read a bunch of posts on this book where commenters claim that this is their favorite team-up in comics.
This is a good time to reconsider this book. Now that the movie has come and gone, now that the speculators have all left lets have another look, remember this was a great movie, remember also that they are making another one and remember as well that these are great characters that modern movie fans/ pop culture fans/ comic fans decided to elevate to the A list.
The light will shine again on the Guardians and you can rest assured that the Groot/Rocket tandem will get marquee billing. I think the characters have yet to reach the peak of their popularity. A quick aside – wouldn't it have been cool if Obi-Wan had hired Rocket Raccoon and Groot instead – perhaps in a future crossover.
CGC 9.8s have started to move up, at the same time Guardians #1s at 9.8 have been moving down. Telling. Don't fear, you'll hunt down crisp, tight, raw copies still snuggled in their Value Pack wrappings.
45th Overstreet price break for this book is $6 in the 9.2 grade split.
Strengths that make this comic a good investment are:
First time Groot and Rocket Raccoon meet
Still found in cheap value packs
Characters still have growth potential (especially Groot – get it?)