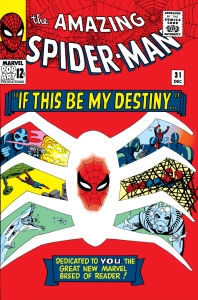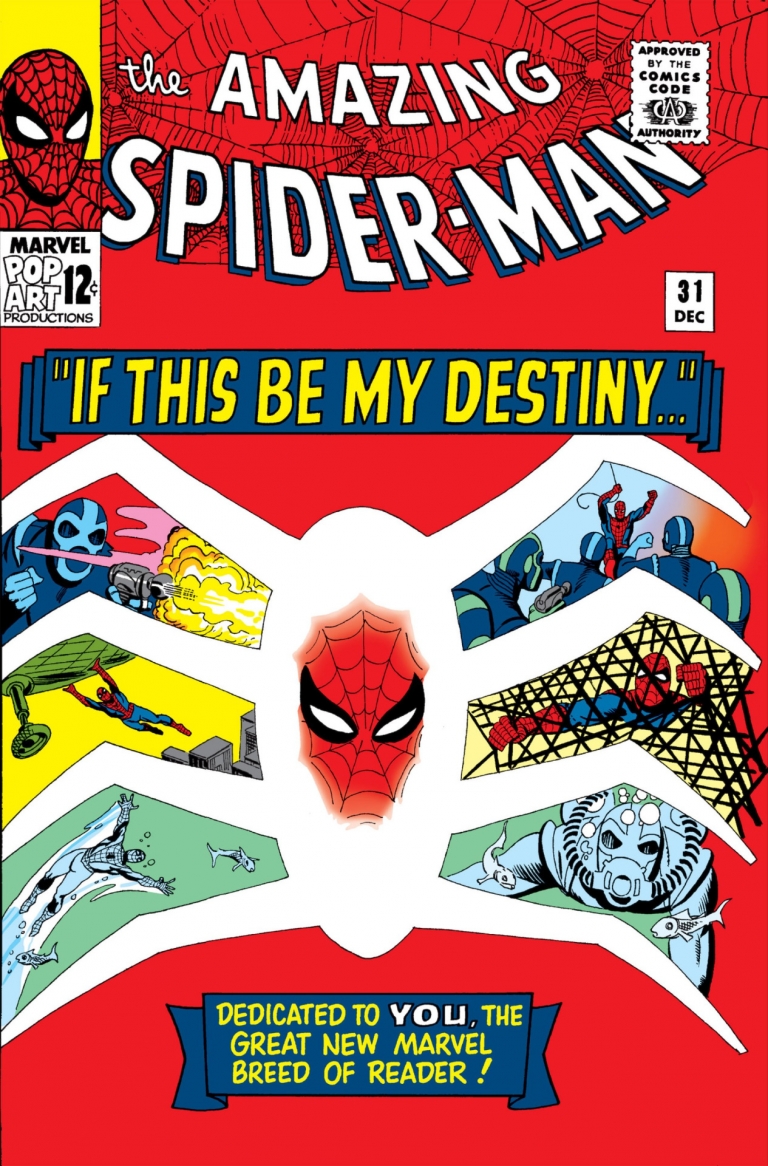 Amazing Spider-Man #31, Marvel Comics, December 1965
The Amazing Spider-Man (ASM) title has to be the most collected title in comics. Great character combined with dozens of "keys" introducing other great characters has always made this the run to collect.
Most of us have or have had Spidey wish lists and I'm sure almost all those lists contained issues like Amazing Fantasy #15 (1st appearance), Amazing Spider-Man #1, #3 (Doc Octopus), #6 (Lizard), #9 (Electro), #13 (Mysterio), #14 (Green Goblin) #15 (Kraven), #28 (Molten Man, who didn't wish they owned a 9.4 copy of #28.
Issue #50 (Kingpin) has turned into a huge key, always was important but is even more so now thanks to Netflix.  A high grade #101 (Morbius) is a must as is ASM #129 (Punisher).
More modern books like #194 (Black Cat), #238 (Hob-Goblin), #252 (Black Costume), #300 (Venom) and #361 (Carnage) all continue to be very sought after comics.
There are ones I love that I've left out for the sake of space and I'm sure you'll have a few of your favorites to add. I know collectors that love some of the classic arcs within the run. There's lots of good stuff to choose from.
Not all the books that made my list are first appearances, books like #39, #40, #96-#98 and #121, #122 are all pivotal issues for various reasons. ASM #39 and #40 launched the Romita years and helped seal Spidey's fate as a pop culture icon. We all wanted the Drug Issues in #96 to #98, #96 is a very important comic btw, check out Nelson da Rocha's great post on issue #96 here. ASM #121 and #122, the "Death Issues" are must haves and surely rank in the top 10 of must haves for most collectors and investors.
Today ASM #121 is one of the hottest of all Spidey books and for good reason, click here for Anthony Falcone's excellent post. So yes, Gwen Stacy died and the comic book world changed forever. Recently a CGC 9.2 of ASM #121 sold for $1200, that's only $100 less than the last CGC 9.2 copy of this week's Undervalued Spotlight pick, Amazing Spider-Man #31.
That's right a CGC 9.2 copy of ASM #31 recently sold for $1300. To put it into perspective as of this post there are 706 CGC 9.2 or better copies of ASM #121 while there are only 76 CGC 9.2 or better copies of ASM #31.
Hey, supply and demand.
This post will try to address the demand, or lack thereof, for ASM #31.
Character introduction is the most important driver for a comic book's value. It's almost unheard of that the death issue of a character can even approach the value of the first appearance of that character. Barring other positives in the death issue this shouldn't be.
Amazing Spider-Man #31 delivers the 1st appearance of Gwen Stacy, Peter Parker's true love, comicdom's game changer. This issue also introduces Harry Osborn, Peter's best bud and a future Green Goblin and Prof. Miles Warren, the future Jackal (whose 1st appearance is actually in ASM #129).
There are simply too many important introductions in this issue for it to be lagging in Guide value to the likes of ASM #19, #21, #22, #26 or #27.
ASM #31 sets too many things in motion, affects too much of what is to come for Spider-Man to be relatively ignored by the market like this. There are three characters that matter introduced in this issue, you add to the fact that one of them is Gwen Stacy…
The 45th Overstreet price breaks for this book are $259/$580/$900 in the 8.0/9.0/9.2 grade splits.
Strengths that make this comic a good long term investment are:
First appearance Gwen Stacy
First appearance Harry Osborn
First appearance Prof. Miles Warren