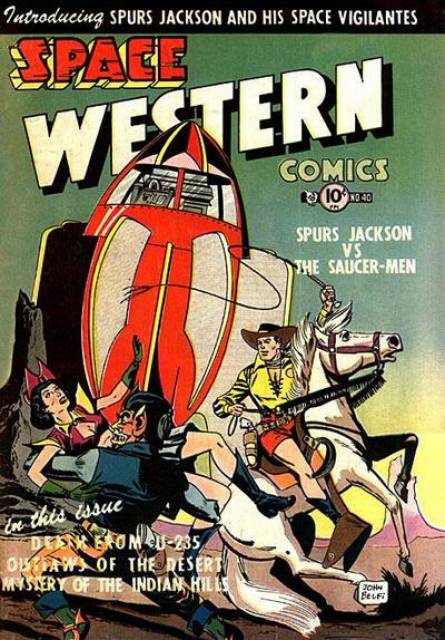 Space Western #40, Charlton Comics, October 1952
It was a real toss-up. This week's Spotlight pick, Space Western #40 narrowly beat out issues #44 and #45 of this exquisitely collectible 6 issue run.
How did I not pick issue #44, not many books can deliver Cowboys fighting Nazis on Mars like #44 can. How could it not be #45 with its "Valley That Time Forgot" story that was an obvious inspiration for Turok.
To tell you the truth this whole six issue run of Space Western (#40-#45) is undervalued. Flying Saucer covers, Atom Bomb explosion covers, Spurs Jackson and his Space Vigilantes, just take your pick.
It came down to the cover, how can you not love this fantastic cover. It's 1952, America is still firmly rooted in its Cowboy roots yet the lure of rockets and the future calls. Tie it all together with a universal theme of a damsel in distress and a hero to the rescue  and you have magic. This is one great comic book cover.
I actually owned this comic once, a long time ago. I had it and issue #44 and I remember they sat and sat in my bins. Funny but I don't remember ever selling them. Maybe someone with good taste pinched them. Maybe they are still in the bins.
Space Western #40 features the introduction of Spurs Jackson and His Space Vigilantes. The story was written by Walter Gibson, legendary writer if the pulp character The Shadow.
Spurs Jackson was a rancher who along with his pal Hank Roper, Strong Bow the Indian and the other hired hands made up the Alien butt-kicking Space Vigilantes. Don't ask any more questions, it's better that way.
Speaking of frontiers, the Golden Age of comics still remains a vast unexplored place loaded with undervalued comics. Most books have genuine scarcity, there are first appearances galore, there are works by some of the giants of the industry and there are some visually stunning covers, all just languishing in obscurity. You can check mark all the above point for Space Western #40.
One copy, a CGC 7.5 sold over 10 years ago for about Guide. As of this post there are only three on the CGC census but I poked around the net and I found some raw Space Westerns on eBay and ComicConnect so they are out there people. Hunt down a strong copy of Space Western #40 and you'll be able to ask your price, probably from me.
The 45th Overstreet price breaks for this book are $290/$488/$685 in the 8.0/9.0/9.2 grade splits.
Strengths that make this comic a good long term investment are:
Intro Spurs Jackson and his Space Vigilantes
Launch of one of the coolest of all comic runs
Great cover!
Dirt cheap in the Guide