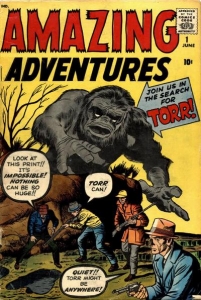 Amazing Adventures #1, Marvel Comics, June 1961
I've had this book in my "Future Spotlights" file for years. I'm not really sure why I haven't wrote it up until now, but it simply can't wait any longer. This week I shine the Undervalued Spotlight on Amazing Adventures #1. Please don't confuse this book with Spotlight #188 which was Amazing Adventures Vol 2 #1.
Amazing Adventures #1 has so much stuff going on. Let's start with the Kirby Monster cover. Kirby Monster covers are actually a vibrant collecting strain and they are very much like Lays potato chips; you can't just have one.
How about the Kirby/Lee/Ditko trifecta? The book features the three maestros as the creative team and that is always a selling point.
OK so let's then talk about this whole "Marvel's first Silver Age hero" business. Technically this book is, but for whatever reasons the character did not take off and was soon abandoned. No matter how you slice it though this is a very important Marvel Silver Age book.
And then we have the whole Doctor Strange thing. This Doctor Droom is essentially Dr. Strange; Stan Lee has been quoted as saying Doctor Strange was kind of his second try at Doctor Droom. By the summer of 1963 the Marvel revolution was well on its way and the July 1963 Doctor Strange intro in Strange Tales #110 was the hit that Amazing Adventures #1 did not turn out to be.
Finally from an investment perspective, if we think this book belongs among the Marvel keys then it is grossly undervalued. Comics from this early Marvel era have enjoyed rapid value appreciation over the past few years yet the current market remains cool to this book. CGC graded copies are getting around Guide across most grades.
If it was just one of the above things I'd accept your doubts but there are too many pluses to this book. Amazing Adventures #1 will have its day.
The 45th Overstreet price breaks for this book is $944/$2122/$3300 in the 8.0/9.0/9.2 grade splits.
Strengths that make this comic a good long term investment are:
First appearance Dr. Droom, Marvel's first Silver Age hero
Kirby Monster cover
Doctor Strange precursor
Kirby/Lee/Ditko creative team