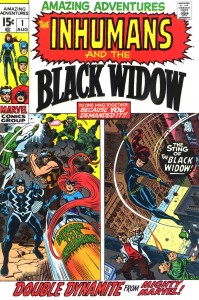 Amazing Adventures V2 #1, Marvel Comics, August 1970
My kids and I watched the Avengers again recently and I found myself really enjoying the Black Widow character played by Scarlet Johansson. I think she's one of the stronger characters in the movie.
Being a comic guy I immediately started thinking about all the great Black Widow comics. I'll admit I specifically hunted down and now have a nice copy of Tales of Suspense #52 and 53, these are the issues that introduced the character.
My other Black Widow comics are all by accident, Amazing Spider-Man #86, where she dons her now classic black outfit is there because I'm a Spidey fan, DD #81 is there because I'm trying to collect all the November 1971 Marvel issues.
I started thinking what other books best represent Black Widow, what books are flying below the radar right now, what Black Widow books are being overlooked?
It didn't take me long to zero in on Amazing Adventures Vol. 2 #1. This Aug 1970 book represents the Black Widow's 1st solos story and the beginning of her own 1st series albeit shared with the Inhumans.
Oh yeah! This book also features the first comic headlined by the Inhumans. The Inhumans are a great team and I've featured them on the Spotlight before. Sure they ran as a backup story in a few Thor issues before this but Amazing Adventures marks the emergence of the team as headliners with their own (shared) title.
The Inhumans half of the book was written and drawn by the team's creator Jack Kirby. The Inhumans run lasted to #10. A few short years later in October 1975 the Inhumans got their own title proper.
OK back to Black Widow. The Black Widow 1st appeared in Tales of Suspense #52, itself a worthy past Spotlight. The character appeared regularly in the Avengers title until finally landing a title (shared) of her own in Amazing Adventures.
The Black Widow lasted through issue #8 after which she jumped over to Daredevil #81 and began a fantastic 40 plus issue run with the Man Without Fear.  She was part of that fantastic Gene Colan Daredevil run. Black Widow actually gets co'billing on the cover from issue #92 through #107. In Daredevil #124 she parts ways with Daredevil and next appears as a founding member of the Champions (Oct/75).
In retrospect the Black Widow had quite a strong presence in the Marvel Universe from her introduction in 1964 right through the late 1970s. It's almost as if the rise of the X-Men titles kind of stole her momentum. She started in Tales of Suspense, did well as a reoccurring character in the Avengers, held her own spot during her Amazing Adventures run, had a great ride in the Daredevil title and then became a founding member of a very popular 1970s Marvel super hero team. That's a nice body of work for her first 15 years of existence.
I feel this book simply does not get the respect it deserves. I've had more high grade copies of this book rotting at my convention booth over the years than perhaps any other book from this era. A look online shows Amazing Adventures #1 fetches less that 70% Guide at CGC 9.2, you can pick up a crisp CGC 9.6 for $150.
What do collectors have against this book? Do most people assume it's a reprint?
Surely the book delivers? Black Widow's 1st solo story and 1st title run, Inhumans' 1st title run. It's a #1 Marvel from the very early Bronze Age and it features the art of legends like Jack Kirby, John Buscema and John Romita.
Looking ahead I see good things for the Black Widow and good things for the Inhumans. Black Widow is already at the forefront of pop culture thanks to the characters successful appearance in films like the Avengers while the Inhumans are surely on deck for bigger and better things.
Initial hype always helps out a characters 1st appearance right away while later issues of note may take a bit longer. I think this is one such issue of note. I think this comic will enjoy a steady increase in demand over the next few years.
The 43rd edition of the Overstreet Comic Book Price Guide shows $40/$73/$105 as the 8.0/9.0/9.2 price splits.
Strengths that make this comic book a good long-term investment are:
1st solo Black Widow
Early Bronze Ave Marvel #1 featuring 1st time Inhumans and Black Widow held titles
Kirby, Romita, J Buscema!