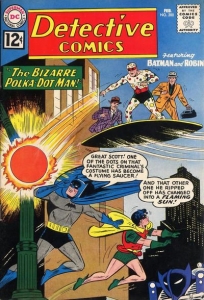 Detective Comics #300, DC Comics, February 1962
I can explain.
Last week I posted the 300th Undervalued Spotlight but purposely didn't pick an issue #300 because I thought that a little predictable. That decision came to me after I had already spent some time looking at several potential #300 candidates. One really stuck with me and rather than see it go to waste I thought I'd fiendishly slip it into this week's Spotlight.
So I awkwardly present Detective Comics #300 as this week's Undervalued Spotlight.
Of the first 300 Detective's this (along with #299) has the cheapest Guide value which is puzzling since it is DC's first #300 issue and deserves at least a little more attention than it has been getting. Oddly Detective (and Action) #'s 100, 200 and 300 didn't get any special cover treatment from DC. These days milestones like 100th issue, 200th appearance or 300th Spotlight get milked for every last drop of marketing potential.
Anniversary issues like this carry a bit more weight when they can lean on current continuity and there are not many titles left that can do this. DC has gone back to the old numbering system with Detective Comics putting the title about 5 years away from reaching the milestone 1,000th issue. Issue #300 sounds just that much more collectible when you're holding issue #935 in your hands.
The Detective Comics is probably the Holy Grail title in comics collecting and is definitely hot in today's market, especially the long dormant era that started in the late 1940s and ended around the birth of Marvel in the early 1960s. Most of these issues from this decade and a half contributed very little to the Batman stable of characters. The thing with books from this era is their very real lack of supply especially in grades of 8.0 or above. Add to this the fact that Batman has never been bigger, copies of his old comics never more sought after, currently this era has many bargains.
To prove my point I jumped on the CGC census and saw only 35 graded Detective #300s as of this post of which only 6 were 9.2 or better with nothing above a 9.4. I then jumped over to GPA and saw that there were only 3 recorded trades of this book in the last 18 months. And as of this post there are zero copies available on the GPA string links.
Detective Comics #300 boasts some pretty cool firsts as well, check that crazy cover featuring the menacing Mr. Polka Dot. Mr. Polka Dot used the Polka Dots on his costume as weapons. That may sound lame but…   …   … yeah, it's lame.
Detective Comics #300 also has an Aquaman back up story, the last one as the Aquaman title #1 had just hit the stands the same month. The Aquaman story introduces the villain Jeffers. Along with Aquaman there is a J'onn J'onzz backup story featuring the introduction of Aloysius Bean.
As I mentioned above there is squat to buy at the moment, the last CGC 8.5 that did sell only went for $176 which is just a bit above Guide which tells me the book can still be had for a bargain.
The 45th Overstreet price breaks for this book is $89/$195/$300 in the 8.0/9.0/9.2 grade splits.
Strengths that make this comic a good long term investment are:
Anniversary issue
Part of one of the most collected titles in fandom
Three separate first appearances including the first Mr. Polka Dot