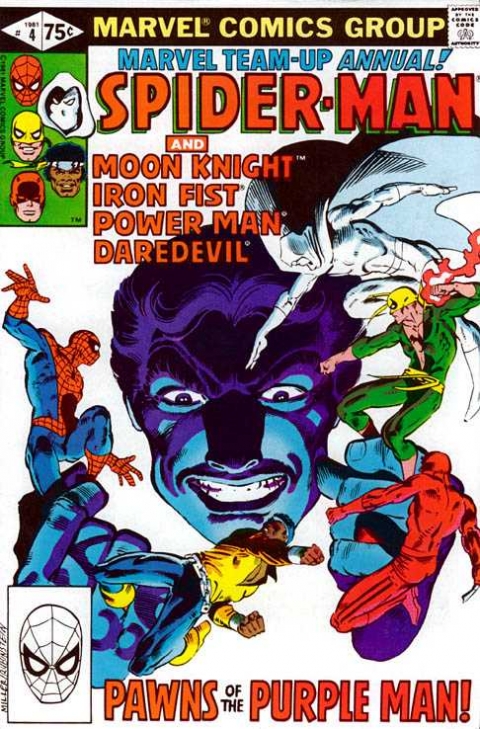 Marvel Team-Up Annual #4, Pawns of the Purple Man, Marvel Comics, August 1981.
Cover Art and story by Frank Miller, Interior art by Herb Trimpe, Inking by Mike Esposito.
Walt: Here's another fantastic contribution to the Undervalued Spotlight from Mike Huddleston. Mike knew I was tied up with a comic con for the past week and stepped in when the Spotlight needed him most. This is such an amazing pick, I just wish he'd sent it to me before the con, I would have bought every copy I saw. Let's send this thing over to Mike.
The "Netflix Prequel". Netflix has created a lot of excitement recently with there new made for TV series featuring Marvel super-heroes. Daredevil has had two seasons already and Jessica Jones has had one. Luke Cage/Power-Man is up next followed by Danny Rand/Iron Fist. Once all of these characters are introduced a new Marvel – The Defenders eight-episode mini-series will air on Netflix. In addition to all that, The Punisher/Frank Castle is slated for his own show in 2017.  Moon Knight is also rumored to be on the docket for a future series. Very exciting times for fans of these characters and Netflix in general.
It took me a while for my old noggin to remember where I had seen this particular cast of characters together before, but it eventually did in the form of our Undervalued Spotlight today – Marvel Team-Up Annual #4. I am a huge fan of the first Marvel Team-Up series. It was an excellent "showcase" series. One of it's biggest strengths was its ability to put together casts of Marvel characters that didn't always work together, but made perfect sense when they did so, as was the case with this book.
Marvel Team-Up Annual #4 features a battle royal with Spider-Man joined by Heroes for Hire Power-Man / Iron Fist. Daredevil & Moon Knight are also on board for the good guy's team. The antagonists are Purple Man and the Kingpin who happen to be the bad guys for this comic, and also for Jessica Jones and Daredevil in their respective series on Netflix. Really cool how so many of the Netflix super-heroes and villains of today, are represented in this one book thirty-five years ago.
In terms of the book being an undervalued spotlight pick, it would be pure speculation. A gamble that the continued and future success of Daredevil, Power-Man/ Iron Fist, and possibly Moon Knight would draw people back to the book that featured this group's first team-up together. Three quarters of the New Defenders Netflix team are represented here. The first two Netflix original bad guys are here as well.
You don't get cheated in terms of content with this book either. A double-sized annual with a solid (early) Frank Miller story and cover art and Herb Trimpe's interior artwork is also solid.
I said the book was a gamble but it is a very small one in terms of cost right now. Marvel Team-Up Annual #4 is usually found in bargain bins and you can buy it today for basically the cost of a new comic book. Can't beat that.
The 46th Overstreet Price Guide splits for this book are as follows 8.0-$4, 9.0-$5, 9.2-$7.
Reasons to buy this comic book as an investment.
An under the radar book with terrific current and future Netflix super-hero content.
First Daredevil/Power-Man/Iron Fist Team-Up.
As Scott says the book is "cheap as chips" with little downside.